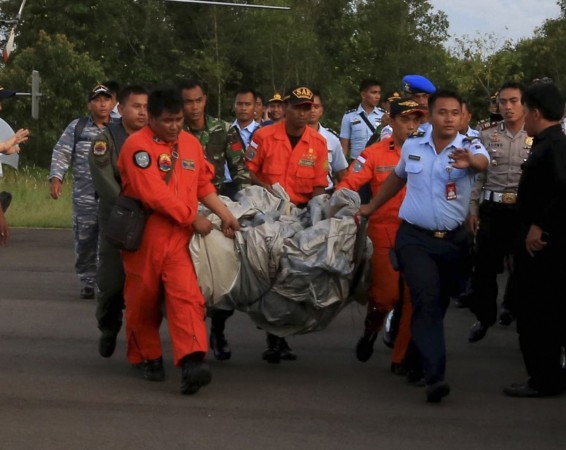 Sonar images have detected a large, dark object on the seafloor -- believed to be the wreckage of the missing AirAsia plane QZ8501, officials have said.
This comes as many ships and planes are constantly scouring the Java Sea to find the wreckage of the missing aircraft which disappeared from the air traffic control system radar early on Sunday. The Singapore-bound plane vanished with 162 people on board about 42 minutes after taking off from the Indonesian city of Surabaya.
Rescuers from Indonesia have already recovered bits and pieces of the debris, including luggage, and about 40 bodies floating in shallow waters off Borneo, various news sources have reported.
"It's about 30 to 50 metres [100 to 165 foot] under water," Hernanto, an official with the search and rescue agency, said about the object found in sonar image, as quoted by Reuters. "We are praying it is the plane so that the evacuation can be done quickly."
The news comes as authorities in Surabaya make preparations for the identification of the bodies that have been recovered so far.
Meanwhile, various theories have been put forth explaining how the airbus crashed. The fully-clothed bodies recovered indicate that the aircraft was intact when it hit the water. This means that the plane may have suffered an aerodynamic stall.
"The fact that the debris appears fairly contained suggests the aircraft broke up when it hit the water, and not in the air," Heil Hansford, a former pilot and chairman of consultancy firm Strategic Aviation Solutions, said.
Indonesia President Joko Widodo has said that the priority will be to retrieve the bodies.
"I feel a sense of deep loss over this disaster and pray for the families to be given fortitude and strength," Widodo said in Surabaya on Tuesday, adding that AirAsia would pay an immediate compensation to relatives.
Many grieving members of the family fainted and collapsed on seeing the footage of floating bodies on local news channels on Tuesday.