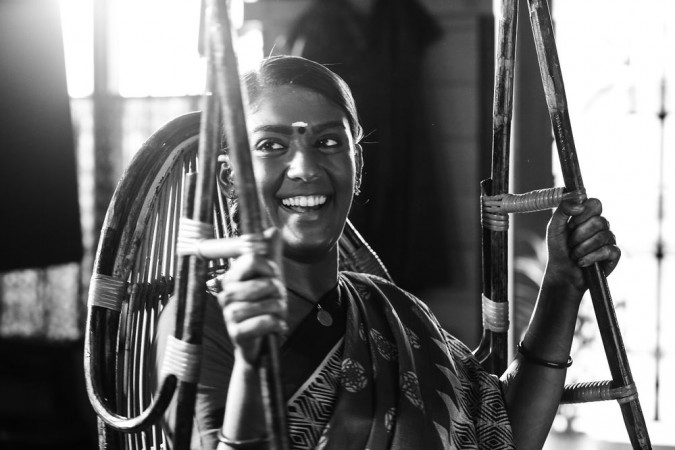 Airaa is the latest horror movie to be made in Kollywood. It is third film of Nayanthara after Mayaa and Dora in this genre. KM Sarjun of Echirakkai fame has written and directed Airaa, which has Kalaiyarasan, Yogi Babu, Krishna Abhishek, Jayaprakash, Kulappuli Leela and a host of other actors in the cast. The film has Sundaramurthy KS's music, Sudarshan Srinivasan's cinematography and Karthik Jogesh's editing.
Story and Analysis:
Nayanthara plays dual roles of an ordinary woman (Bhavani) and contemporary modern woman (Yamuna). Their characters are contrastingly different.
Yamuna is a video journalist, who wants to start her own YouTube channel. After her idea was rejected by her publication, she quits her job and comes to her granny's place in Pollachi. Her dream to create her own YouTube channel gets a life here as she comes up with the channel which posts fake ghost videos.
In no time, her channel becomes a hit, but what she has been faking becomes a reality as she starts experiencing the presence of supernatural power in the bungalow. On the other side, there is Bhavani (Nayanthara), who works in a hospitality department. And there are murders happening in Chennai. Is there a connection between Yamuna and Bhavani? How to the two tales intersect? Answers to these questions form the crux of the story.
The movie has a good story and Nayanthara is presented as a strong woman. It becomes clear from the very first scene where she fights the body shaming and tries to touch upon too many issues. Nayan's performance is the big plus, but the film fall flat because of the poor climax. The film also lacks spine-chilling moments which are common in a horror film. However, the director should get a pat on his back for the idea of using butterfly effect concept in the storyline.
Reviews:
The film has garnered a lot of positive buzz with its promos. With Nayanthara delivering a few solo hits, expectations are high from this movie. Will it live up to the viewers' expectations? Check it out in their words below:
Kaushik LM: #Airaa - Apart from the #Nayanthara show, spl. mention to VJ @Maathevan and Gabriela who appear in the emotional flashback sequence presented in a B/W tone.
@KalaiActor has an understated role and does it pretty well. #YogiBabu is trademark & typical in his comedy attempts.
#Airaa - @sarjun34 @Priyankaravi20 duo delivers a film which has horror thrills - some comedy - mystery - woman related emotions. The #butterflyeffect drives the screenplay ahead. #Nayanthara in dual roles, as Yamuna and Bhavani, is a powerhouse performer. Technically good.
#Airaa 2nd half - #Nayanthara as the dark skinned Bhavani is fantastic. It takes a lot of guts for the #LadySuperstar to play such a role far-removed from her star image. Gets into emotional, sad zones. Watch it for her.
Composer @SundaramurthyKS is another outperformer.
#Airaa 1st half - #Nayanthara holds the show with her stylish presence & performance. @SundaramurthyKS' background score counts as a big highlight. Technically good. It's a mix of usual horror effects and some genuinely intense moments. The #butterfly factor is quite intriguing.
S Abishek: #Airaa starts off with an unassuming screenplay in the first half which makes me think that, there is something more to be told in the second half.
Butterfly effect should come in handy.
I kinda felt bad that #Nayanthara wasn't allowed to experiment well with the looks. But her work as #Bhavani is one fine work from her in the recent times.
The innocence and all those minute reactions during the montages, she shines bright.
Kollywood Cinema: #Airaa (#KcReview 3.25/5)
+ve
* #Nayanthara Stunning Performance
* BGM Score & Song
* Superb Cinematography
* Neat Screenplay Writing
* Comedy, Horror, Emotional all
* Last 20 Min "Woow"
- Ve
* Nothing much
Overall : Good Emotional Horror Thriller. Dont miss to Watch
Venkatramanan: #Airaa Interval -
Parallel connect plots knitted with puzzle tales. Strong background score, keeps to the haunting pace. Should define in rear now.
Nettv4u: #AIRAA FIRST HALF: Movie slowly getting into the core content towards the interval! The tension filled lives of both #Nayanthara & #Kalaiyarasan were depicted with puzzle filled approach ! Creepy scenes are neat #Yogibabu does nice witty act !
#AiraaReview Technically a very good film which shows decent scary touches in the 1st half followed by impactful emotional shades in the later part. Dir @sarjun34 is definitely appreciated for offering a Extreme strong & Meaty roles to #Nayanthara
Neat Emotional Ride #Airaa
Rajasekar: Director @sarjun34 and writer @Priyankaravi20 shows so much promise in the flashback portions. Lovely writing there. The butterfly effect is another interesting angle in the screenplay. Not a usual horror thriller, especially in the second half #Airaa. Technically super strong
#Airaa - An experimental horror thriller which is watchable for #Nayanthara 's flawless performance as the dark skinned #Bhavani who yearns for a happy life. KS Sundaramurthy' s music is another positive aspect about the film. Full review tomorrow...
Prashanth Rangaswamy: #Airaa Interval - Feels very fresh . Keeps you puzzled. Wonderful work with BGM and cinematography. Enjoyed it so far.
Haricharan Pudipeddi: #Airaa - #Nayanthara carries this emotional horror drama effortlessly in two diverse characters, making a very strong impact as Bhavani, a character you'll remember long after you walk out of the theatre.
sridevi sreedhar: #AiraaReview : A solid performance of #Nayanthara is the biggest highlight of #Airaa As Bhavani she is brilliant The make-over, expressions, body language and those eyes Wow!!
Ramesh Bala: #Airaa [3/5] : Music Dir @SundaramurthyKS 's BGM is a big plus..
Writer @Priyankaravi20 has written an emotional story and a clever screen play..
Dir @sarjun34 has made a movie of mixed genres..
Watch it for Nayan and a different attempt..
#Airaa [3/5] : Horror and Comedy 1st Half.. Emotional 2nd Half..
Not the usual flashback.. The Butterfly effect comes into play..
Lady Superstar #Nayanthara is fab in both the roles, especially the dark skinned gal role..
@KalaiActor is good..
Surendhar MK: #Airaa: Lady Superstar #Nayanthara once again steals the shows and shoulders the film from start to end with a sterling performance. Be it the stylish Yamuna or the dark-skinned Bhavani, she has aced it as usual and gives life to these characters.