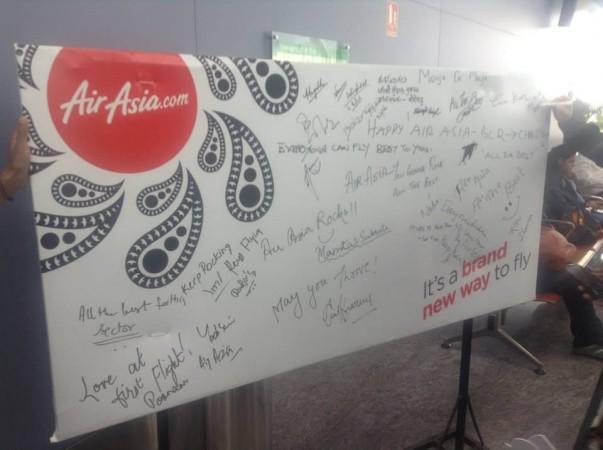 Airlines in India have been competing with each other in offering best prices to their passengers for a while, and now, with Air Asia India jumping into the middle of the fare war, things are bound to get interesting.
The Tata group-backed Air Asia India, on Sunday announced their "Air Asia Big Sale", under which passengers would be able to travel in flights for unbelievably low prices. The promotion claims that the base fare for a one-way ticket from Chennai to Kochi would cost only ₹100, Bengaluru to Goa ₹500 and Jaipur to Chandigarh ₹1000.
The move is part of the "Big Sale" promotion by parent company Air Asia, which is offering three million promotional seats in its network from Kaula Lumpur to Chennai, Kochi, Kolkata, Bengaluru, Tiruchirappalli and Hyderabad, with a starting fare of ₹2,599 for international flights operated by Air Asia Berhad and Thai Air Asia.
The tickets for the period of 10 June 2015 - 17 January 2016 can be booked from 9:30 pm on Sunday, 10 November to Sunday, 16 November 2014 at the Air Asia India website.
AirAsia India CEO Mittu Chandilya said "it is our constant endeavour to make air travel affordable for every Indian."
The deal seems too good to be true and the customers' comments on the Air Asia Facebook page seem to indicate that some of them have not got confirmation for their tickets.
Saurabh Yadav who booked a round trip from Bengaluru to Chennai noted that although money was deducted from his account, he did not receive any confirmation or email regarding the tickets.
Rudra Radhakrishnan, who made a booking at 6:01 am on Monday said that although money was deducted from her account, booking status showed, "Need Payment". While seeking advice on how to proceed, she also sought a working customer care number.
Meanwhile, rival airlines Cebu Pacific Air is also offering a discount on their tickets, with domestic base fares for as low as P 199 (₹272).
Back in August, Air India tried pulling off a similar stunt, by offering dirt cheap domestic flight tickets. To commemorate the merger with Indian Airlines, Air India had announced a 5-day sale of air tickets at just ₹100 (minus taxes). However, it ended with the crashing of the website, due to the tremendous response, Times of India reported.