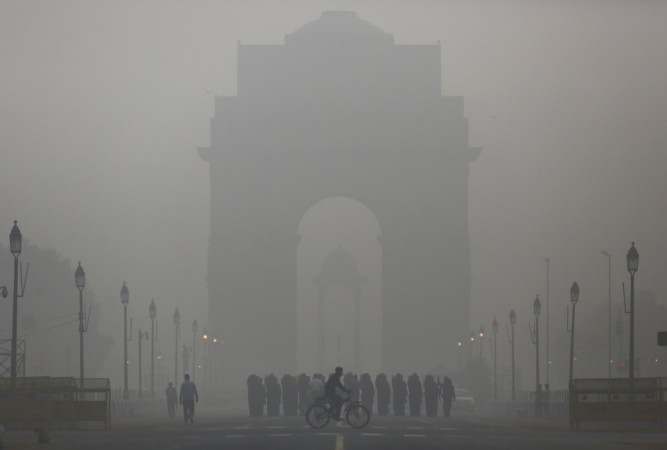 Delhi has the most polluted air while Kinnaur district of Himachal Pradesh has the cleanest air in India, according to a study conducted by the Centre for Atmospheric Sciences, Indian Institute of Technology (IIT), Delhi.
The study took into account the levels of PM 2.5 (particulate matter, which is an air pollutant and measures less than 2.5 microns in size) in air and the resultant deaths caused by particulate matter pollution, the Times of India reported.
The study said the PM 2.5 level in Delhi stood at 148+ - 51 µg/m³ (microgram per cubic meter) annually, several times higher than the safe limit of 40µ g/m³. The level recorded in Himachal Pradesh's Kinnaur district was 3.7+ -1 µg/m³ annually, which is less than 10 percent of the national air quality target.
The study further said if India manages to achieve an annual target of 40g/m³ for PM 2.5, nearly 45,000 people can be saved annually from dying prematurely due to diseases related to high pollution levels.
The smaller size air pollutants, according to the National Research Development Corporation (NRDC), are not blocked well by the human body and can lead to serious respiratory diseases and even heart failure. People who live in cities with high PM 2.5 have more heart attacks, depressed lung function, worse asthma, and overall die younger than people who breathe clean air, according to NRDC.
These air pollutants mainly arise from combustion, with fireplaces, car engines, and coal- or natural gas-fired power plants working as the major sources of PM 2.5.
Long-term exposure to these fine particles emitted from vehicles could lead to premature deaths as a result of chronic obstructive pulmonary disease (COPD), ischemic heart disease (IHD), stroke and lung cancer. The IIT study said 2.79 lakh Indians die prematurely because of COPD, 1.1 lakh die of IHD, and 88,700 and 14,800 deaths are caused by stroke and lung cancer, respectively.
"Many more die because of indoor air pollution that is caused by the burning of biomass fuels in rural areas," Sagnik Dey, one the study authors, was quoted as saying by the TOI. Dey said only coordinated efforts by all states could prevent such deaths.
He added that efforts aimed to curb vehicle emissions, checking the use of biomass fuels and encouraging large-scale plantations are needed to tackle the problem of air pollution. "At present, only 0.06 percent of the population is breathing safe air as defined by WHO," he said.
A United Nations report said that 7.3 million deaths occurred due to air pollution in South-East Asia and the Western Pacific regions in 2012, whereas 12.6 million people die every year due to unhealthy environments.