Air India Ltd (AI) is reportedly considering a fleet expansion and may place an order for Boeing 737-Max planes.
A source with knowledge on the developments revealed the news to Bloomberg. The new order, if placed, will not replace the current fleet of Boeing 737s, but add to it. Indian carries are mulling over expanding their fleet to cater to the increase in demand for air travel. The final decision is pending, said the source without elaborating on the number of planes that is likely to be ordered.
Boeing 737 Max is the aircraft manufacturer's fourth-generation model of the 737 family. The aircraft will use larger and more efficient CFM International LEAP-1B engines. They are also reportedly more fuel-efficient.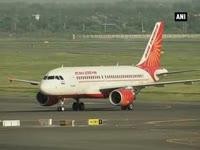 The entry of Air Vistara is shaking up the full-service airline business. Air Vistara is a joint venture between Tata Sons and Singapore Airlines, which is expected to grow rapidly, expanding into new routes, cornering the business travel market with its more premium services. Scraping its low-cost carrier (LCC) business, Jet Airways has decided to continue operations as a full-service operator, even as it struggles with a significant debt load.
India is witnessing a surge in air travel demand, a trend that the airline companies want to exploit, even as fuel charges continue to remain high. The low fares, which affect airlines' profitability, is unlikely in the near future.
Indigo Airlines, India's largest airline by market share, has placed an order for 250 A320 Neo single aisle aircraft with the Airbus Group, on top of its previous order for 280 A320 aircraft.
AI is expected to firm up its order with France's Avions de Transport Regional GIE for 40 turboprop planes that are to be used by its regional unit Alliance Air, to connect smaller cities. The French company has already received five firm orders from AI, Bloomberg reports.
The airline has accumulated debt of almost ₹40,000 crore and is trying to sell some of its real estate to help pare costs. Since its merger with Indian Airlines in 2007, Air India has never earned a profit.