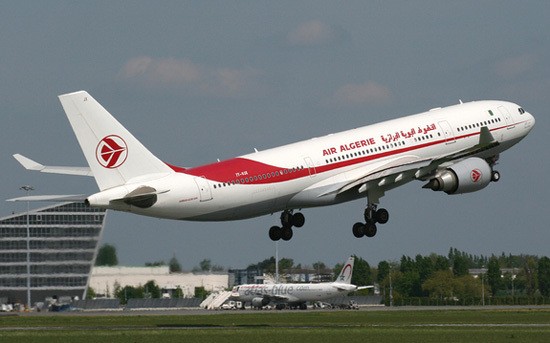 An Air Algerie jet, carrying more than 110 people, has vanished from the radar during the flight from Burkina Faso to Algiers on Thursday morning.
It is now feared that the plane may have crashed in Niamey, Niger, after getting caught up in a heavy sandstorm.
Air Algerie/Swiftair flight #AH5017 EC-LTV is now confirmed crashed in Niger. Still no info about passengers and crew pic.twitter.com/rq0YwHsXxQ

— Flightradar24 (@flightradar24) July 24, 2014
News sources claim that air traffic control lost contact with the plane 50 minutes after takeoff.
Some reports suggest that the Air Algerie flight AH5017 had to divert from its regular course to avoid a collision
Swiftair, the Spanish private airline company which owns the plane, stated the McDonnell Douglas MD-83 jet was carrying 116 people, including the crew.
Of the 110 passengers, 50 are understood to be from France, while the six crew members are reportedly Spanish.
Here is the probable area of the crash of Air Algerie flight #AH5017 pic.twitter.com/VKhOXikxNO

— OFM News (@OFMNews9497) July 24, 2014
Meanwhile, some reports suggest that the AH5017, which originated from Ouagadougou - the capital of the west African nation of Burkina Faso, may have been lost in Mali, which is facing a civil unrest.
According to The Mirror, the Algerian air authorities lost contact with the aircraft at around 01:55 GMT when it was flying over Gao, Mali.
The Reuters news flash, however, claimed that the missing Air Algerie plane is an Airbus A320.
The local authorities, in the meantime, have set up a crisis unit at the Ouagadougou airport for families of the passengers.
Back in 2003, Air Algérie flight 6289, which was a Boeing 737-200, had crashed at the Tamanrasset airport during takeoff. A total of 102 people were killed, while one man miraculously survived the accident.
It's been 10 hours since #AH5017 last had contact with Air Traffic Control almost 10 hours ago - If crashed, still no crash site / photos

— Alex Macheras (@AlexInAir) July 24, 2014