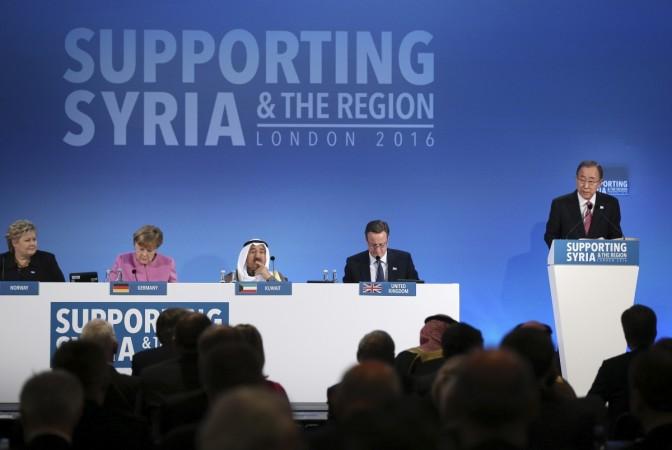 A donor conference on Thursday for raising funds to aid Syrians saw several nations pledging billions, a day after peace talks between Syrian parties were suspended.
The 'Supporting Syria' donor conference was co-hosted by UK, Germany, Kuwait, Norway and the United Nations in London to raise money in aid for millions of Syrians displaced due to the five-year-long civil war. UN agencies have appealed for $7.73 billion in funds to deal with the Syrian crisis.
European Council president Donald Tusk said that the EU and the member states will commit more than 3 billion euros to respond to the needs of Syria and the region in 2016, according to the official website of the Supporting Syria conference.
German Chancellor Angela Merkel pledged 1.2 billion euros for Syrians in 2016 and 1.1 billion euros in 2017-2018. UK Prime Minister David Cameron promised an extra £1.2 billion by 2020 to take the country's total pledge to £2.3 billion.
Norway pledged US$1.1 billion till 2020, while the United Arab Emirates pledged US$137 million in 2016. Japan pledged $350 million in 2016.
"If ever there was a moment to take a new approach to the humanitarian crisis in Syria, surely it is now," Cameron said as he opened the conference. Representatives from 70 countries and international organisations reportedly attended the conference.
UN High Commissioner for Refugees Filippo Grandi said in a statement that donors had contributed "just half of what was needed" to last year's humanitarian appeal, and called for increased contributions in 2016, especially in the early part of the year.
The London conference is the fourth such event held since the beginning of the Syrian civil war in 2011, with the first three conferences held in Kuwait and Berlin. This year's donor conference was shadowed by the suspension of the Syrian peace talks due to the Bashar al-Assad governemnt's offensive on the rebel-held city of Aleppo.
United States Secretary of State John Kerry, who attended the London conference, said he had spoken to Russian Foreign Minister Sergei Lavrov for the need to discuss ceasefire in Syria, Reuters reported.
The US has provided over $4.5 billion for displaced Syrians and Syrian refugees, Kerry said at the conference.