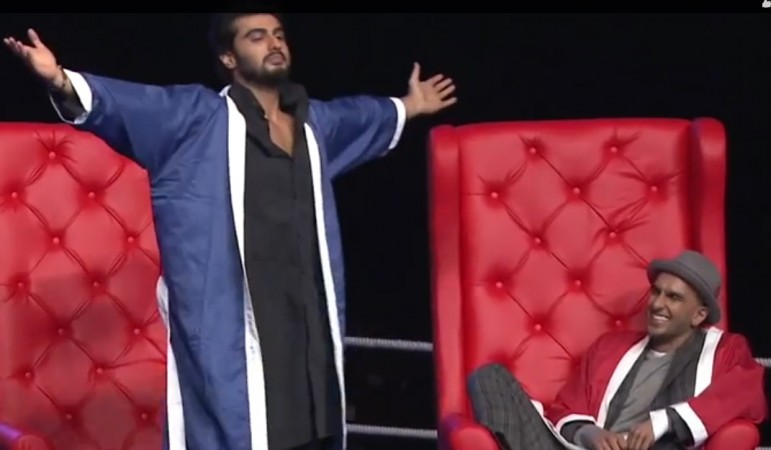 The All India Bakchod (AIB) knockout roast video featuring Ranveer Singh, Arjun Kapoor and Karan Johar has left many criticising the show and labeling it a "National shame".
The viral video has now been removed from YouTube following complaints by some protesters, who found the video obscene. The Maharashtra government has ordered Mumbai police to investigate the show for obscenity.
While, a large section of viewers believe that AIB, along with influential celebs, are 'polluting' the Indian culture, the victims and some celebs decided to respond to the controversies surrounding the same.
Filmmaker Karan Johar, who was subjected to jokes on the show tweeted:
Not your cup of tea...don't drink it!!!

— Karan Johar (@karanjohar) February 3, 2015
Even Arjun Kapoor took a firm stand and tweeted: "Today nothing matters." Kapoor's "Gunday" co-star Singh is yet to react to the criticism.
Alia Bhatt, Sonakshi Sinha and Deepika Padukone who were present at the show, tweeted
Some "not taking life so seriously" lessons are needed. DESPERATELY!!!! — Alia Bhatt (@aliaa08) February 3, 2015
So nice to see twitter is filled with such angels who point out hypocrisy n never use foul language n have nvr laughed at dirty jokes (haw)

— Sonakshi Sinha (@sonakshisinha) February 3, 2015
"The #AIBKnockout is the coolest funniest show I have EVER witnessed!@AllIndiaBakchod @arjunk26 @karanjohar @RajeevMasand" Padukone tweeted.
Film producer Ritesh Sidhwani too reacted after the video was pulled down from YouTube.
"Guys really!! Inquiry being conducted on people who decided to laugh & take a piss on themselves. Evolve people it's about time #AIBRoast" tweeted Sidhwani.
AIB is a comedy show comprising of members Ashish Shakya, Tanmay Bhat, Rohan Joshi and Gursimran Khamba. The roast panel also included former "MTV Roadies" head Raghu Ram, stand-up comics Aditi Mittal and Abish Mathew and film critic Rajeev Masand.