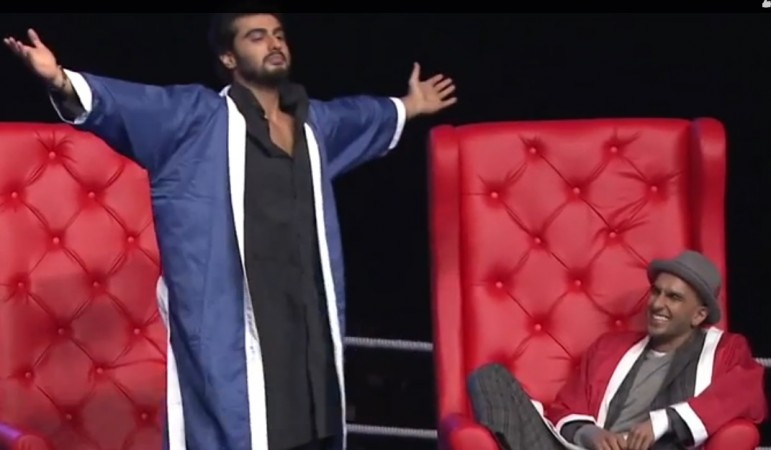 The world raved when AIB roasted budding stars Arjun Kapoor and Ranveer Singh amid 4,000 odd people. While the wisecracks were taken on by them in the right spirit, some have been left irked.
According to the complaint filed by Akhilesh Tiwari, President, Brahman Ekta Seva Sanstha, Mumbai, ace filmmaker Karan Johar along with the two youth icons have used inappropriate language which has apparently blemished Indian culture and women.
"I have handed over a letter to Sakinaka police demanding a criminal complaint be lodged against these so-called youth icons Karan Johar, Arjun Kapoor and Ranveer Singh. The show, which can be seen on YouTube and other websites, was extremely abusive and it is not only ruining the clean image of the Indian culture & women, but is also misleading today's youth," PTI quoted Tiwari as saying.
To add to this, Maharashtra's Minister for Cultural Affairs Vinod Tawde told NDTV that they would lodge an FIR against the makers as they have performed sans license. "Such vulgarity is a crime and based on facts which will emerge, the government will file a case against them," he said.
While the officers in charge have initiated inquiry into the complaint lodged by Tiwari, many have lent support to the explicit content of the show by trending #WeStandByAIB Knockout on Twitter. Here's what the viewers think:
Chandan Sadhu: #AIBRoast is on internet so if you dont like it den dont watch it but plz dnt preach us abt Sanskar. #AIBKnockout #We Stand By AIB Knockout
RJ Chandni Mishra: We stand by AIB Knockout Coz u filed a police complaint for a stupid reason against a celeb to gain publicity TARGET RAPISTS INSTEAD
Ridhima Tewary: More power to @AllIndiaBakchod. If only the govt had found the incessant rapes in our country nearly as offensive. We Stand by AIB Knockout!
Satyam Badkul: They consider a comedy group as national shame.Thats why our HDI is not growing Coz there mentality is still (We stand by AIB knockout)
While netizens raved about the show, some seem to have shot down the efforts made by stand-comics to get something new on to the table. Trending with the hashtag #AIB National Shame, twitterati has condemned the inappropriate content of the show.
Anshul Saxena: Few months ago,Deepika was shouting for women respect when TOI posted her cleavage n now she loves maa-behan #AIBRoast AIB National Shame
Sir Ravindra Jadeja: #AIBRoast proved that Deepika's Cleavage Controversy and Sonakshi's KRK Controversy was Totally Publicity Stunt. AIB National Shame
@athar$ayyed: karanjohar talk about respect yourfamily &women in films he is having laugh on vulgar jokes on women In front of his mom #AIB National Shame
Zara_Ali : #AIB National Shame is not freedom of expression or media ! It is an expression of perverted depraved minds that endanger social norms!
With a panel of eight – Tanmay Bhatt, Rohan Joshi, Ashish Shakya, Gursimran Khamba, Aditi Mittal, Raghu Ram, Rajeev Masand, Abish Mathew – and roast master Karan, the controversial event was filmed at a Mumbai-based stadium. It has been reported that the organisers have raised a whopping ₹40 lakh from the show, which will go to charity.