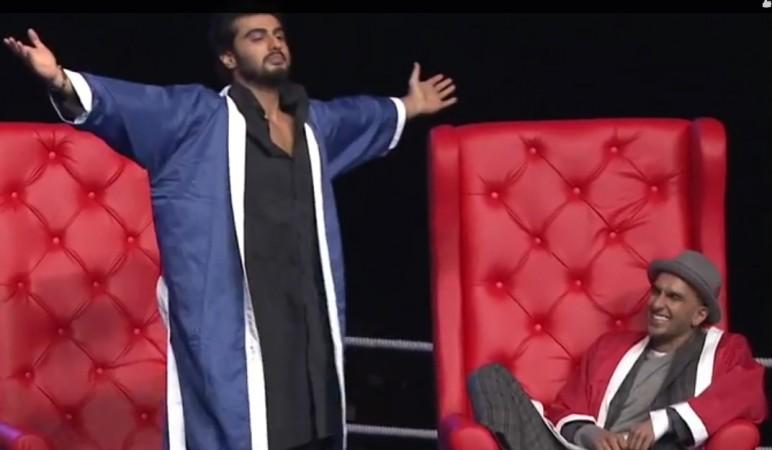 By daring to subject themselves to an unending grilling session at "AIB Knockout: The Roast of Ranveer Singh and Arjun Kapoor", the "Gunday" stars proved that they are just what the Hindi film industry needs at this point.
The panel comprising – Rajeev Masand, Raghu Ram, Tanmay Bhatt, Rohan Joshi, Gursimran Khamba, Abish Mathew, Aditi Mittal and Ashish Shakya – did live up to their promise of roasting the hell out of Ranveer and Arjun. While the too gladly took on the offensive digs aimed at them, the stand-up comedians took the liberty to make up far-fetched comments on their personal lives as well.
The episode, released on YouTube on 28 January, has already garnered close to over a million hits and there are more than a few reasons why the viewers are loving it so much.
Karan Johar was the first to embrace the in-your-face wisecracks thrown at him. When Ranveer went on all fours, the hit filmmaker said: "That's my position". Leaving the audience into a fit of laughter, the director also made a handful of side-splitting jibes at the panel.
Ranveer and Deepika's alleged romance was the most-discussed topic on the show. And with Ranveer gushing at the mention of his ladylove, it was proved that it wasn't a hush-hush affair anymore. The actor even greeted Padukone with a kiss. However, the "Happy New Year" actress' ex-flame - Ranbir Kapoor - was mentioned on and off, and he briefly overshadowed Singh's presence as well.
Another reason why the knockout is your go-to video is it allows you to bust some stress. It also showcases Ali Bhatt's ability to take jokes. She was heavily criticised after she had given some terribly wrong answers at Johar's celebrity chat show "Koffee with Karan". She later took the Twitter memes in her stride and featured in an AIB video titled: "AIB: Alia Bhatt - Genius of the Year".
Arjun, who was spotted reacting (in jest) to some of the sharp-tongues on-stage, laughed off the fact that he failed his 12th standard exams. The show ended with the roasties getting back at the panelists.
Watch the Videos here: