At a time when Artificial Intelligence (AI) is gradually changing the nature of everything from jobs and the economy, to communications and privacy, the long-standing question of whether it's a boon or bane to humanity is yet to be answered.
Although there is a growing consensus that AI will one day create a severe shortage of jobs, new research reports released by Accenture and Infosys tell a different story of AI playing a vital role in operations of enterprises and are extremely optimistic about their AI-driven future.
The reports, prepared after surveying over 2,000 business leaders across various global markets including India, reveal that artificially intelligent technologies are realising benefits across enterprises as the majority of businesses have already moved beyond the experimentation phase with AI.
Infosys said in its report, titled "Leadership in the Age of AI," that 73 percent of respondents agreed that their AI deployments have already transformed the way they do business. The report also stated that 53 percent of respondents indicated that their organisation had increased training in the job functions most affected by AI deployments.
"India, the United States and China led geographies with the most respondents stating that their organisation has realised direct, tangible results from deploying AI technologies with 75 percent, 71 percent and 61 percent respectively," the Infosys report said.
The Accenture report, titled "Reworking the Revolution," talks about the need for a greater investment in AI and human-machine collaboration for businesses to boost revenues. The report is based on a survey conducted between September and November 2017 in 11 countries, including India.
According to it, if businesses follow the footsteps of top-notch companies to invest in AI and work towards a better alliance between humans and machine, they can increase revenues by 38 percent by 2022 and raise employment levels by 10 percent.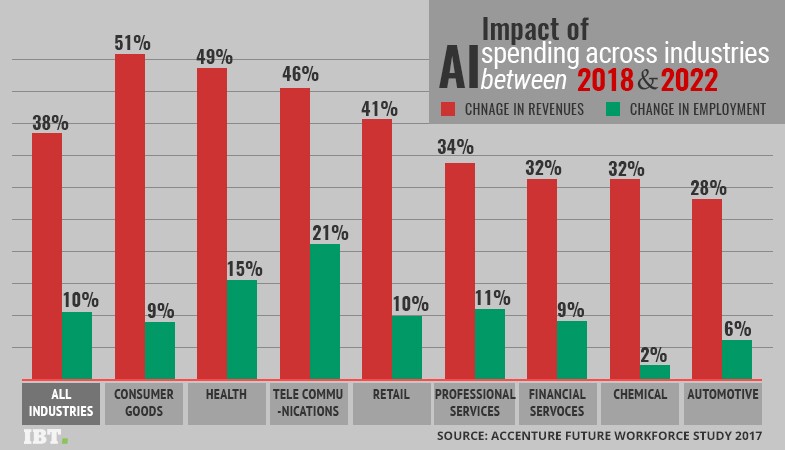 "Collectively, this would lift profits by US$4.8 trillion globally over the same period. For the average S&P500 company, this equates to US$7.5 billion of revenues and a $880 million lift to profitability," the report said.
As many as 72 percent of the 1,200 senior executives surveyed also said that AI would be critical to their organisation's market differentiation while 61 percent noted that the share of roles requiring collaboration with AI will rise in the next three years.
The Accenture report also states that more than two-thirds of the 14,000 workers surveyed believe that it's important to develop skills to work with intelligent machines. The report, however, cautioned that "a disconnect between workers' embrace of AI and their employers' efforts to prepare workers" may put potential growth at risk.
"Business leaders must take immediate steps to pivot their workforce to enter an entirely new world where human ingenuity meets intelligent technology to unlock new forms of growth," Ellyn Shook, chief leadership and human resources officer at Accenture, said in a statement.
In a recent report, Gartner said that AI would create 2.3 million jobs by 2020 while eliminating 1.8 million. The report also said that AI augmentation -- a combination of human and AI -- would generate $2.9 trillion in business value by 2021 while also recovering 6.2 billion hours of worker productivity.