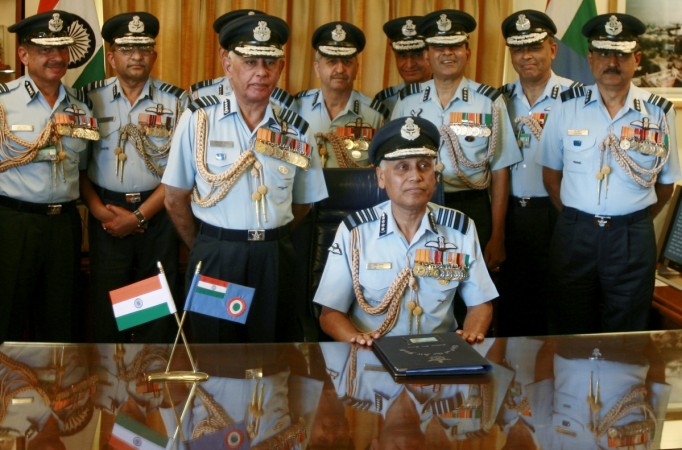 UPDATE 15:20 p.m. IST -- The CBI will reportedly probe whether the specification change in the service ceiling for helicopters was then IAF chief SP Tyagi's call or if there was extraneous pressure, ANI news agency reported.
According to the CBI, the decision to change the mandatory service ceiling of helicopters from 6000m to 4500m was taken in a meeting at the Indian Air Force headquarters on March 7, 2005, the news agency said, citing sources.
Original story:
Former Indian Air Force chief SP Tyagi on Monday appeared before the Central Bureau of Investigation (CBI) in connection with the Rs 3,600 crore AgustaWestland chopper deal. He has also been summoned by the Enforcement Directorate (ED) in connection with the scam, and is likely to be questioned by the agency this week.
Tyagi has been accused of meeting Agusta officials when he was head of the Indian Air Force between 2005 and 2007, and for also allegedly tailoring specifications of helicopters to help the Italian company win the Rs 3,600 crore contract for supplying 12 VVIP choppers to India. The CBI has alleged that the former air force chief's cousins had received kickbacks from the company for helping it win the deal, according to NDTV.
An Italian court that recently convicted Giuseppe Orsi, former head of Agusta's parent company Finmeccanica of corruption in the deal, had also reportedly named the Tyagi brothers.
Tyagi reached the CBI headquarters in Delhi on Monday morning for the questioning, as per news channels.
The AgustaWestland issue has rocked the Indian Parliament in the past few days, with the ruling Bharatiya Janata Party (BJP) launching a scathing attack on Congress party President Sonia Gandhi, whom a middleman in the chopper deal reportedly described as the "the driving force behind VIP helicopters."
On Monday, the Trinamool Congress (TMC) gave a a notice in the Rajya Sabha calling for an immediate discussion on the AgustaWestland chopper scam, according to Hindustan Times.