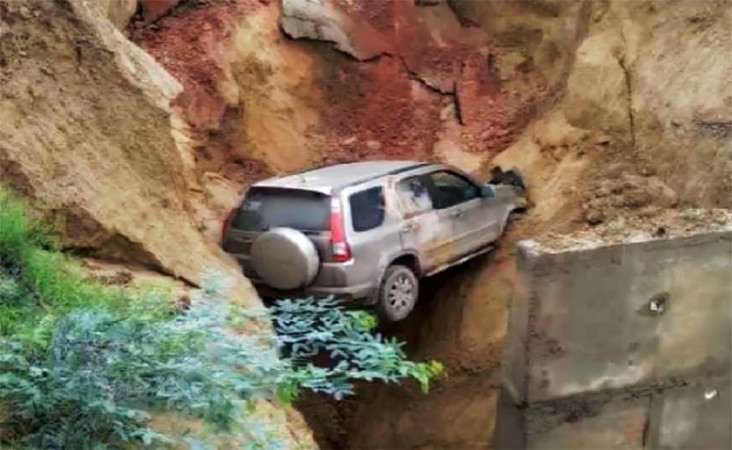 A group of four managed to escape a major tragedy while travelling on the Agra-Lucknow Expressway in Uttar Pradesh on Wednesday. The SUV they were riding took an unexpected plunge into a massive ditch, about 16 kilometres from Agra, the sight of which will leave you shocked.
A part of the road in the Dauki area had caved in due to heavy rains, forming a sinkhole that was nearly 65 feet deep, The Times of India reported.
The accident occurred at around 5.30 am when the men were on their way to Kannauj from Mumbai. They had been using the navigation on the phone to find their way since they hadn't travelled along the UP expressway before.
An unexpected detour took them down the service road and right into the massive ditch, NDTV reported.
However, none of the car passengers was injured. They managed to climb out of the SUV even as it was lodged halfway down the ditch. While the sinkhole that led to this accident might have been unforeseen, the 302-kilometre long stretch of the UP expressway is no stranger to accidents.
India's longest expressway a haven for disasters
The Agra-Lucknow Expressway, a pet project of former UP Chief Minister Akhilesh Yadav, is the longest of its kind in India. It cost the government a whopping Rs 1,500 crore and was constructed with the intention to ease traffic congestion and improve travel time between Agra and Lucknow. Instead, the UP expressway seems to have become a haven for accidents.
According to reports, the Agra-Lucknow Expressway witnessed a staggering 688 accidents in less than a year, between August 2017 and February, killing 90 commuters.
One of the more gruesome accidents in the last few weeks occurred on June 11. Seven people were killed on the expressway after being run over by a speeding UP roadways bus.
While speeding seems like an obvious culprit when it comes to road accidents on an expressway, there seem to be a few more factors in play here. This was highlighted well by KC Jain, secretary of Agra development foundation, according to the ToI report. Jain noted that lack of proper amenities, the facility of pit stops to give the driver a break, and the failure of the Uttar Pradesh Expressways Industrial Development Authority (UPEIDA) to address safety requirements and concerns on the stretch seems to have added to the trouble.