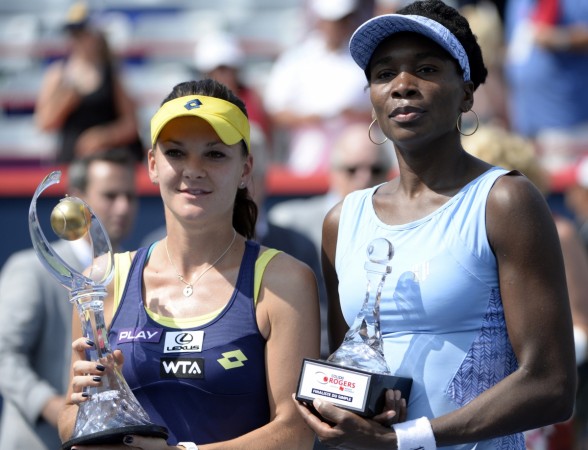 Agnieszka Radwanska defeated Venus Williams 6-4, 6-2 to land Rogers Cup title in Montreal on Sunday. The third-seeded Pole picked up her first tournament victory of the year, defeating Williams in 82 minutes.
Radwanska is the first Rogers Cup champion from Poland, with the 25-year-old earning a winner's prize of $441,000. Radwanska's first win of the season has given her some much-needed confidence before going into the year's final Grand Slam -- the US Open.
"I really had an amazing week," said Radwanska, who defeated top seed Victoria Azarenka and Ekaterina Makarova to reach the final.
Radwanska clinched her 14th WTA title, out of which 11 career titles have come on the hard courts, which suggests she could be a dangerous player at the US Open later this month.
The World no. 5 Radwanska dominated the match with her ruthless baseline game against the inconsistent Williams, who advanced into final after winning a three-set family battle between sister and world number one Serena Williams in semifinal.
"I think she played great tennis the whole week, playing and beating a lot of good players on the way to the final. I think I am even happier to beat Venus when she's really on fire," said the Pole.
Radwanska took control of the match with a 4-1 lead in the first set, but Williams answered back with a break. Holding onto to her nerve, Radwanska hit a drop shot that Williams managed to drop back, before returning with a lob to finish off the first set. Cruising through the second set, Radwanska sealed her victory with an ace on match point.
"One of my biggest titles," said Radwanska, who is also Poland's first Grand Slam finalist and first to win a WTA Tour title from Poland. "As you can see the draw had pretty much all top players. So very, very special title for me.
"I was playing much better every match. I didn't start that well from my first match. I think every match was much better. That's why I think I am sitting her right now."
The seven-time Grand Slam winner Williams, on Monday, returned to the top 20 in the world rankings for the first time since March 2013.
"I didn't imagine that I would get to the final, I fell a little short today, but it's been a wonderful week," said Williams.
"I totally wanted to be in the top 20 like earlier this year," said Williams. "I've been having goals. It's always a goal in mind for myself and hopefully most tennis players. I would love to hit the top 16 and just keep going forward after that. Obviously, if I can continue this level of tennis, it will be something that can happen for me.
"It's been a really long week, I played like six matches in a row, and against her [Radwanska] you really have to be patient. She just was a little too good today."