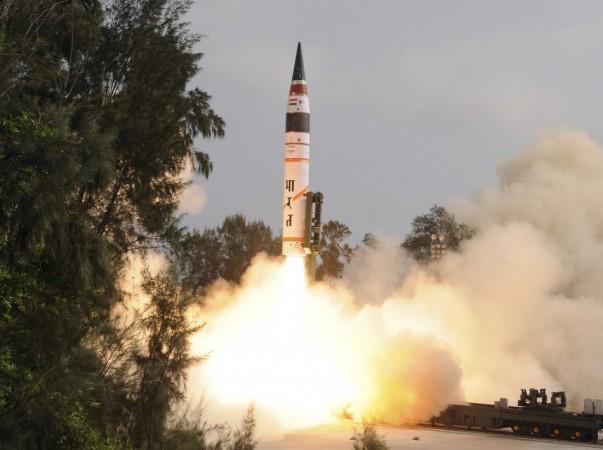 All eyes are on India after it successfully test fired Inter-continental Ballistic Missile Agni-V with a range of more than 5,000 kilometers (3,100 miles). However, India seems to have downplayed its missile capability if a Chinese researcher's claim is to be believed.
Du Wenlong, a researcher at China's PLA Academy of Military Sciences, reportedly told the Global Times that Agni-V has the potential to hit targets 8,000 kilometers away. He added that "the Indian government had deliberately downplayed the missile's capability in order to avoid causing concern to other countries."
Zhang Zhaozhong, a professor with the People's Liberation Army National Defense University, told the Global Times that an ICBM should have a range of at least 8,000 kilometers, which means India is not in the club yet.
"According to China's standard, an ICBM should have a range of at least 8,000 kilometers. The Agni-V's range could be further enhanced to become an ICBM," the Global Times quoted Zhang Zhaozhong as saying. "It is India's goal to possess an ICBM, as the country seeks to improve its status and become a major world player. Without it, India will remain a regional power," he added.
India has successfully test fired Agni-V, a solid fueled Inter-continental Ballistic Missile (ICBM), which is capable of reaching deep into Asia and Europe.
The indigenously built Agni-V with a range of more than 5,000 kilometers (3,100 miles) was test fired at Wheeler Island off Odisha coast at around 0807 hrs from Integrated Test Range (ITR).
Prime Minister Manmohan Singh called Defence Research and Development Organisation (DRDO) chief Dr VK Saraswat to congratulate him and his team for the successful test launch of Agni-V.
India has now joined elite nations that have Inter-continental Ballistic Missile capability. Till date, U.N. Security Council permanent members China, Russia, France, the United States and the United Kingdom have ICBM capability. Israel is also believed to have the capability.
The nuclear warhead-enabled Agni-V is 17 m long, 2 m wide and weighs 50 tonnes, and it can carry a pay-load of 1 tonne. It is an upgraded version of the indigenously built Agni series to be powered by solid rocket propellants. It is the fifth in the Agni series. India had earlier successfully test fired Agni-I (700-km), Agni-II (over 2,000-km), Agni-III (3,500 km- 5,000 km) and Agni-IV (of 2,500-3,500 km).