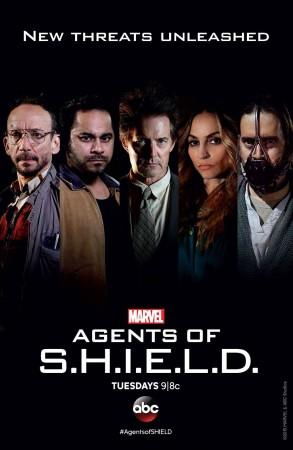 ABC will air season 2 episode 13 of "Marvel's Agents of S.H.I.E.L.D." on 17 March, Tuesday. The second season of the series will focus on Skye's (Chloe Bennet) powers and her father's evil plans to bring together a team of super villains to destroy Coulson.
Coulson (Clark Gregg) and his team at the SHIELD have identified that Skye's powers are closely linked with her emotions and so May (Ming-Na Wen) calls in a specialist to help her emotionally. This specialist just so happens to be her ex-husband. The synopsis released for "One of Us" also suggests that Skye will soon make a decision that irrevocably changes her life.
Meanwhile her father Cal (Kyle MacLachlan), who is furious at Coulson for stealing his daughter's affections and killing Whitehall, is launching an evil plan to destroy Coulson. He is assembling a team of Super Villains to destroy SHIELD., and every superhuman that was forced to keep a lid on their powers or was locked away by the SHIELD, will rally behind Mister Hyde (Cal).
Cal is seen telling, presumably to Coulson, "I want everyone to know, what you do to people like us".
It has been confirmed that Karla Faye Gideon (Drea De Matteo), Wendell Levi (Ric Sarabia), Francis Noche (Geo Corvera) and Angar (Jeff Daniel Philips), who looks like Bane from "Batman" series, will help Cal in their quest for revenge. However, it looks like the super villain team will not make a serious move in the coming episode.
The teaser for season 2 episode 13 promises the return of Lucy Lawless as Isabelle Hartley, however, it is not known if she has returned from the dead or is seen in a flash-back
Watch out for Season 2 episode 13 "One of Us" of "Marvel's Agents of S.H.I.E.L.D." on abc at 9.00 pm (EST) on Tuesday, 17 March.