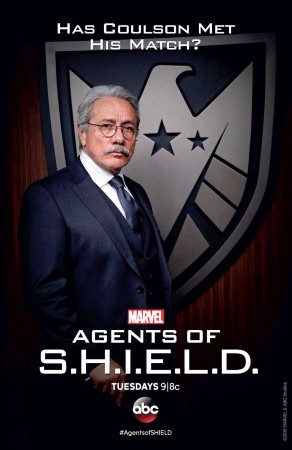 ABC will air season 2 episode 14 of "Marvel's Agents of S.H.I.E.L.D" on Tuesday, 24 March. "Love in the Time of Hydra" is all about loyalty; how many agents will stick with leader Coulson (Clark Gregg) and how many will turn against him?
Towards the end of "One of Us", SHIELD has come to understand that Skye (Chloe Bennet) is not capable of controlling her powers and that when she does try to contain them, she ends up hurting herself. The team is divided on what to do with one of their own.
While Andrew (Blair Underwood) recommended that they ask Skye to leave the team, May (Ming-Na Wen), who has been working on Skye is not ready to accept his advice. Even Coulson is against giving up on Skye, and when May tells him that she doesn't know how to handle her, Coulson replies, "You'll find a way... You always do".
However, if May is unable to figure out a way to stop her, SHIELD will have no option but to let her go in one of the upcoming episodes.
Meanwhile, Hunter (Nick Blood) will finally understand where Mack's (Henry Simmons) loyalties lie. In an outstanding reveal of "One of Us", he is shows to be a double agent for "real SHIELD". However, there is no real knowledge about what the "real SHIELD" is. All that can be understood from the promo is that Bobbi (Adrienne Palicki) might turn against Coulson soon.
"Coulson and his secrets, that's the threat... And I think it's time that we removed that threat," Bobbi is heard saying in the promo.
Also returning for "Love in the Time of Hydra" would be Ward (Brett Dalton) and Agent 33 (Mata Stojan), who have both been suspiciously absent since the mid-season finale of the ABC show.
Watch out for season 2 episode 14 of "Marvel's Agents of S.H.I.E.L.D" titled "Love in the Time of Hydra" on Tuesday, 24 March at 9.00 pm (EST) on ABC.