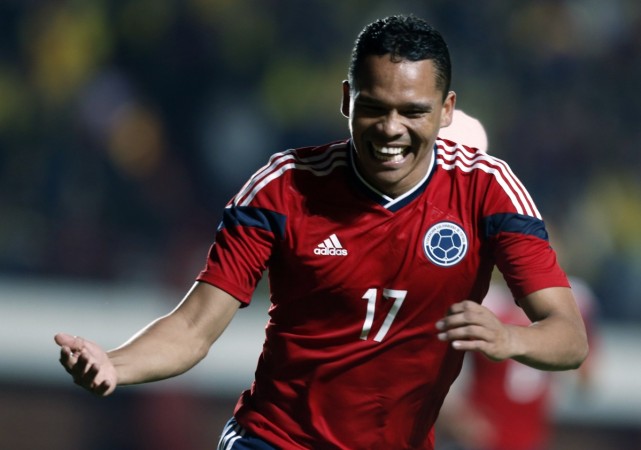 Colombian striker Carlos Bacca has attracted interest from a couple of Premier League clubs, which includes Liverpool, the Sevilla player's agent confirmed.
Bacca, 28, is currently with his national side in Chile participating at the Copa America 2015. He has a contract with the 2015 UEFA Europa League winners until June 2018, and the Spanish club have reportedly told the Reds that they have to trigger the player's £21.5million release clause to buy him this summer.
Bacca's agent, Sergio Barila, however has stated that there has been no offer made to his client from any club as yet.
"We have had lots of interest but so far there has been no official approach," Barila told English daily Guardian.
"I spoke with Carlos on Wednesday night and we agreed we need a real solution. Clubs are telling him not to sign anything until they have made an offer but we are still waiting.
"Liverpool and another English club are among those that have shown an interest but there are also clubs in Italy. What is clear is that they must meet the release clause but at this stage nobody has."
It is believed that the other English club pursuing the player's signature this summer is Manchester United, and Italian giants Milan and Roma are also identified as potential suitors.
Following discussions with his client, Barila jotted down a few clubs that could be Bacca's possible destination this summer, and Liverpool were one of them. There are other conditions also which are to be met before the player finally makes a move.
"We are really looking at three things - number one is to have a happy family situation for his wife and son because he had a bad experience in Belgium [with Club Brugge]," Barila said.
"The second is to find a good team with a good project. Before he went to Chile, we wrote down a list of clubs that fit that description and Liverpool was on that list.
"The third question is the contract. He has a good salary in Sevilla but we know how much clubs in England can pay."
After arriving in Sevilla in the summer of 2013, Bacca averaged 24.5 goals per season - 21 goals in his first season at the club and 28 in his second - as he helped his side bag two back-to-back Europa League titles.
He also scored twice in the Europa League final last month against Dnipro in their 3-2 win.
Bacca was shown a red card after clashing with Brazil star Neymar in the ongoing Copa America, for which the striker received a two-match suspension. He will feature again in the tournament only if Colombia are able to get past Argentina in the quarterfinals on Friday.