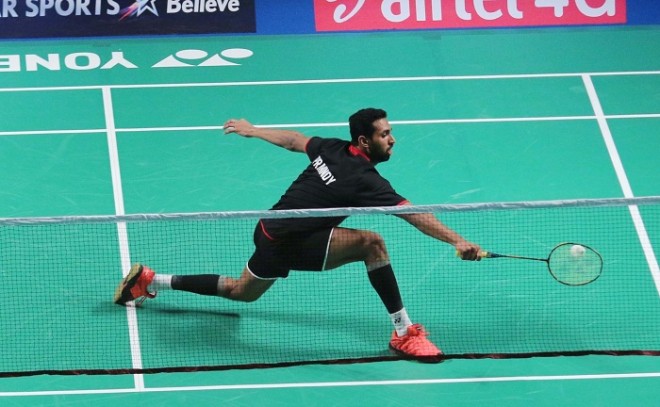 HS Prannoy played some consistent badminton in the Swiss Open, defeating Germany's Marc Zwiebler 21-18, 21-15 in the final, to clinch the title, Sunday. After his stupendous performance, Prannoy has set his sights on future tournaments in the coming weeks, and aims to clinch the Olympics berth, which is going to be an uphill task.
The Indian shuttler's win against the German might look an easy straight sets victory, but Prannoy was tested in both the sets. Both the players were involved in some strong rallies, which entertained the fans in Basel, Switzerland. Prannoy and Zwiebler looked tired, but Prannoy showed a lot of character to win points at the crucial juncture.
"It was not easy though the scoreline might suggest so. We played long rallies and it was tough to sustain the level. The first game was tough but I trusted myself. I knew the conditions will be slower today. He is someone who keeps hitting back so I was prepared to play the rallies but I was getting tired. But then when I saw that he was getting more tired, I knew I have a chance," the Press Trush of India quoted Prannoy as saying.
If the player can play such level of consistent badminton in the coming weeks when he participates in the Super Series title, he can increase his chances of sealing the Olympics berth. But it is a huge task in the Super Series events that comprises top shuttlers, making the task even more difficult.
At present, Prannoy is off the radar as participation in the Olympics depends on world rankings, for which he has to improve by leaps and bounds to represent India in the Olympics.
"I am extremely happy to win this title. This should take me to the 20th spot in world ranking and I would like to give Olympics qualification one more effort by playing well in the next tournaments before the May deadline," Prannoy said.
"It won't be easy because I hardly have any time to rest or practice. In a week, I will be playing at the Indian Open Super Series and then I will play the Malaysia Super Series instead of the Senior Nationals as I wanted to give myself maximum chance to qualify for Rio."