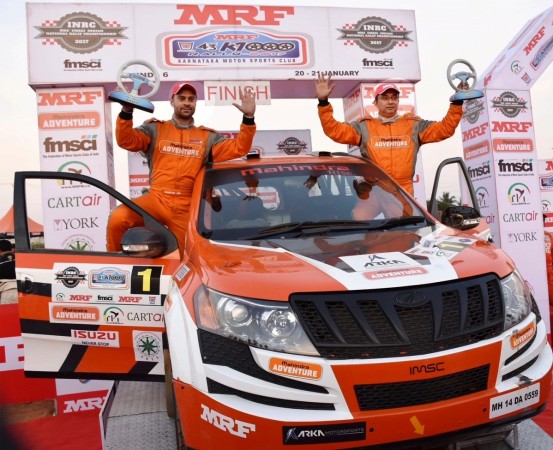 Gaurav Gill, the 36-year-old Indian rally driver had a successful rally season in 2017-18. The Delhi-based driver competing with Team Mahindra Adventure driver bagged yet another Indian National Rally Championship (INRC) title after winning season-concluding K-1000 Rally in Bangalore on Jan 22.
In the K-1000 Rally, Gill topped all six stages clocking a total of 55 minutes 41.6 seconds in his Super XUV 500. With four wins in five rallies of the season, Gill is now crowned national champion for the fifth time in INRC. He drove his Super XUV 500 with co-driver Musa Sherif throughout the season.
Ahead of INRC victory, Gill had also won FIA Asia-Pacific Rally Championship (APRC) title in November 2017. The MRF Skoda driver with co-driver Stephane Prevot was victorious in the final round in Chikmagalur at the Coffee Day India rally in November. Gill retained the FIA APRC in 2017, his third since 2013.
Having won major rally championship in his home country as well as the eastern hemisphere, Gill is now eyeing on WRC debut, reports Overdrive. Gill is reportedly in talks with the Wevers Sport team, a Dutch outfit that runs Skoda factory cars, for a seat with them for the WRC2 championship.
While there is no confirmation yet on WRC plans, Gill is expected to get support from Skoda Motorsport and may get a drive in the R5 spec Fabia for WRC 2. He is familiar with the car since it is the same car he drives in the APRC. The future in WRC 2 depends on getting funds, which he is currently working on.
Gill is undoubtedly one of the fine rally drivers in the world. He has beaten Ole Christian Veiby, who has been driving the factory Skoda team in the WRC2, to win the 2017 APRC title. Gill was also faster than his previous teammates like Pontus Tidemand, Jan Kopecký, Chris Atkinson and Esapekka Lappi, who all are now regular drivers in the WRC.