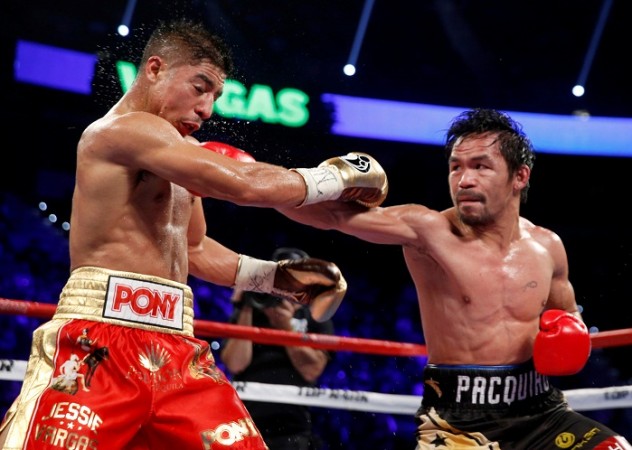 Manny Pacquiao looked in amazing form as he dismantled American Jessie Vargas to win the WBO world welterweight title via unanimous decision on Sunday. With such win under the belt, talks about a possible rematch with Floyd Mayweather have already begun, and trainer Freddie Roach believes 'it is going to happen.'
Mayweather was also present at Thomas & Mack Center in Las Vegas, where Pacquiao showed his class to put up a dominating display against Vargas. Pacquiao might not have knocked out Vargas, but his display reminded all and sundry about the dangerous fighter he still is inside the boxing ring.
Pacquiao was not at his amazing best when he fought Mayweather in the 'Fight of the Century' in May 2015, which the American defeated with some strong defensive skills. Even Roach was not happy with how the bout then took shape, and wants to see the fight materialise one more time in the near future.
"I think it's going to happen. There's a lot on the table and I think they can do it. I know Manny can fight a better fight and I was a little disappointed the first time and I would love to have it one more time," Roach told ES News.
After the fight, one learned that Pacquiao was not physically fit as he fought the American with a shoulder injury. Just a few days later, Pacquiao underwent a surgery on the torn right rotator cuff, which was a proof that the Filipino was not perfectly match fit.
Despite the injury, Pacquiao did not look too bad as he gave his best shot against Maywether, who was witnessed running all round the ring as well, trying to get out of Pacquiao's punch and jabs. But, Mayweather scored some important points during the contest, and emerged victorious.
Roach, after witnessing Pacquiao's aggression against Vargas, feels it could be a different story if Mayweather vs Pacquiao II takes shape.
"I will say the fight was a little bit disappointing, yes. But I do think Manny can fight a much better fight, a much more aggressive fight and a much more offensive fight, and I think that's what he has to do to win that fight because the other guy (Mayweather) is a very good boxer and I think Floyd just sits back and outboxes him if Manny lets him," Roach said.
"But I think with the way he is punching tonight it will be a different story. I think it will be a much more exciting fight and again I really wan't that fight. We didn't fight the best fight that night and we can do a lot better I know," he added.