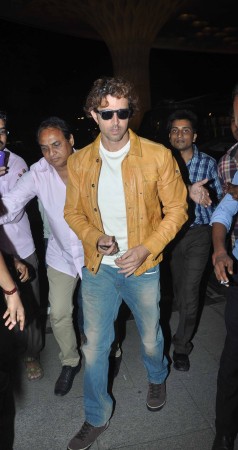 Hrithik Roshan is known to get into the skin of the characters he portrays on-screen and his role in Ashutosh Gowariker's mega budget "Mohenjo Daro" is no different.
The honey-eyed actor is said to be undergoing rigorous training sessions to fight with tigers in the film.
The shocking revelation has been made by celebrity fitness trainer Satyajit Chaurasia, who is training the hunk in the film.
"The script of Mohenjo Daro is superb. Hrithik is my friend and he has shared with me the details of the body shots and other sequences while working out. There are combat scenes between him and tigers in the film. So I'm training him to build the right body for these kinds of sequences" Satyajit told IANS.
Further, Satyajit said that Hrithik loves to exercise. "For him, it is a stress-buster which gives him a lot of delight. So I try to give him numerous workout drills to keep him happy. He has worked really hard for 'Mohenjo Daro' with a lot of planning and his body is looking perfect in the film."
This is not the first time the "Bang Bang" actor has preformed fighting scenes with wild animals. In Gowariker's period drama "Jodha Akbar" (2008), Hrithik fought with elephants for a particular scene.
"Mohenjo Daro" is a love story that dates back to the 26th century BC and has some powerful stunts performed by Hrithik. Also starring newcomer Pooja Hedge, the love story will eventually turn into a revenge drama.