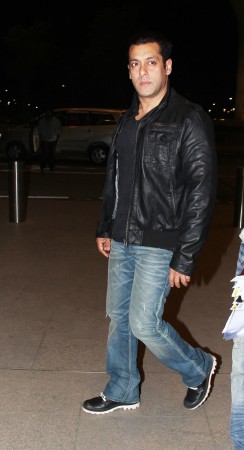 It has been a year of delays. While some films' release dates have been rescheduled owing to post-production work, casting dilemmas have led makers to push projects at hand.
Salman Khan's "Shudhhi" is one of them, but has a different set of reasons. The superstar, who is slated to leave for Kashmir with the "Bajrangi Bhaijaan" unit soon, will reportedly take up Ali Abbas Zafar's "Sultan", A Yash Raj Films venture, after he wraps up the Kabir Khan directorial.
"Shuddhi has already been delayed due to a few changes in the cast. Now, it has been postponed further as Salman will shoot for Sultan after completing Kabir Khan's Bajrangi Bhaijaan," Mid Day quoted a source as saying.
While the source added that "Sultan" leading lady Deepika Padukone will commence promotions for Shoojit Sircar's "Piku" soon, wind up Sanjay Leela Bhansali's "Bajirao Mastani" and kick-start YRF project, Zafar said there would be clarity on Salman's dates once he has put a full stop to "Bajrangi Bhaijaan". "We will have some clarity about his dates in a month or so once he is done with Bajrangi Bhaijaan," informed the director.
Interestingly, a few days ago, Salman reportedly expressed disgust over Karan Johar participating in the controversial AIB Roast. The actor even threatened the filmmaker-producer that he would walk out of his film, which is to be produced by Dharma Productions.
"Salman called Karan. He told Karan in no uncertain terms that he found the humour distasteful and unacceptable. He also threatened to walk out of Karan's film Shuddhi," Deccan Chronicle quoted a source as saying.
In other news, makers of "Shuddhi" have been on the lookout for a female lead. However, according to an insider, Karan wished to shoot a few portions before the cast was finalised. Considering how tight the "Kick" star's schedule is, the director will probably have to wait.
"Shuddhi" has been on every movie enthusiast's radar ever since it was announced. While Hrithik Roshan and Kareena Kapoor Khan were considered for the film, the former bowed out as the production was delayed. Deepika, too, was in the news for being picked as the lead but reports suggested she had to turn down the offer opposite Salman owing to prior work commitments.
However, since "Shuddhi" is slated for a Diwali 2016 release, both cast and crew will have ample time to work things out.