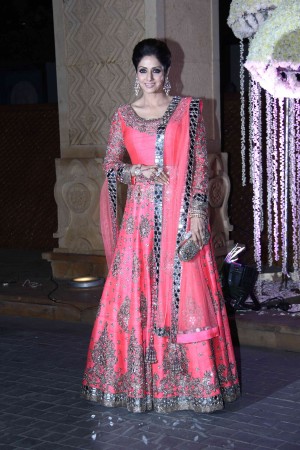 As the Kapoor family returned home with Sridevi's ashes on Wednesday night, Bollywood posted heartfelt notes for the veteran actress after the funeral.
Amitabh Bachchan wrote on Twitter: "T 2729 - "रहने को सदा देहर में आता नहीं कोई तुम जैसे गये ऐसे भी जाता नहीं कोई"~ कैफ़ि आज़मी. देहर - means .. the world . Javed Akhtar narrated this sher to me at funeral of Sridevi .. said it was written at time of Guru Dutt demise ; but so appropriate for today .. [sic]"
Sridevi had worked with Amitabh Bachchan in Inquilaab, Aakhree Raasta and Khuda Gawah. When the veteran made her comeback after 15 years with the superhit English Vinglish, which released in 2012, Big B made a special appearance in the movie.
And for those questioning why Shah Rukh Khan didn't speak anything on social media, well, he broke his silence and this is what he wrote: "How can one not just feel love & beauty & be grateful for a life that became a part of yours in some small way by making it prettier....isn't it just easier to feel love & give towards that life, even in death...the comfort of appreciation and gratitude. [sic]"
Sridevi and Shah Rukh Khan had worked together in 1996 film Army. And Sridevi's last film will be in SRK's upcoming film Zero, also starring Katrina Kaif and Anushka Sharma.
Sridevi's untimely death came as a shock to the entire nation. People in thousands came to pay their last respects in Mumbai on February 28. Sridevi was cremated with full state honours and was draped in the national flag. Her cremation was held at Vile Parle Seva Samaj, which was attended by Amitabh Bachchan, Shah Rukh Khan, Katrina Kaif, Jeetendra, and many others.
The family released a statement post the funeral which said:
"The past few days have been trying times for us as a family. Today, particularly, has been one of the hardest. We laid to rest a beautiful soul who has gone too soon.
She leaves behind a legacy that is unique. Her talent was undeniable, her beauty unmatched and her ability to connect with the audience was legendary. Sri had the same connect with her family as well.
The one thing that helped us all get through these last few days, was the amazing amount of love and support from everyone — be it her many colleagues, to her innumerable fans, her caring friends and loving family, from across the country and the world.
This outpouring of love is the memory that we would like Khushi and Janhvi to have of their mother... a woman who was loved unquestionably by everyone. Let us all who loved Sri, envelope her two little ones, her life, as she often called them, with as much or more love than we gave Sri so that they can live their lives ahead with a little less ache in their hearts.
Let us help them remember their mother fondly, with that beloved twinkle in her eyes, and help them build a life and be what Sri had dreamt for them.
To the members of the media, we ask that you respect the privacy of the family and allow us the space to grieve. Sri lived her life with dignity and we implore, that you give her the same respect."