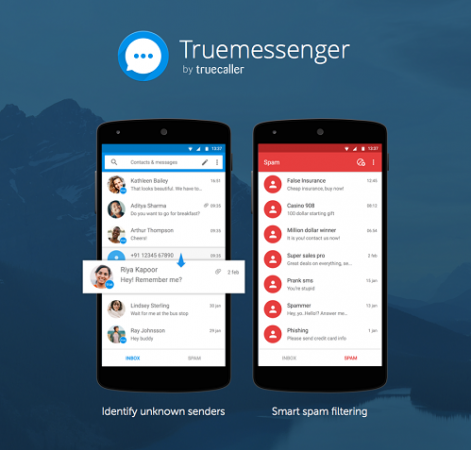 If you are impressed with Truecaller's number-identification tricks and ability to block spam calls, the company just extended its reach into messaging.
On Tuesday, the Swedish company launched the all-new Truemessenger app for Android smartphones in India as it aims to curb spam messages. The new app replaces your SMS app on the smartphone and stops all those unwanted telemarketing messages that make your phone ring in the middle of the night.
In an official company's blog post, Truecaller explained its Truemessenger comes with an automated spam filter, which gets the data from 150 million users across the world.
"With the increasing amount of SMS spam, and unknown messages sent to private mobile phone numbers, Truemessenger puts you in control of who you communicate with and keeps your inbox clean and free from unwanted messages," Truecaller wrote in its official blog post on Tuesday.
Truecaller has big plans for India, where more than 80 million people use the app. Truecaller India head Kari Krishnamurthy revealed that the company plans to reach 150 million users in India and twice as much around the world by the year's end, IBN Live reports.
Truemessenger works identical to Truecaller and packs useful features such as the ability to detect, block and report spam messages, block messages from unwanted numbers, redirect spam messages to a separate folder, add a name to any incoming number and create custom spam filters to detect unwanted messages by keywords and area codes.
Truemessenger is currently available for Android smartphone users in India. You can download the app for free from Google Play Store. There is no information on when the app will hit other platforms such as iOS and Windows Phone.