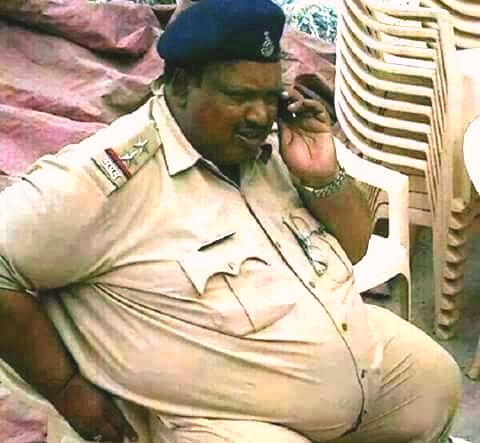 After author and controversial socialite Shobhaa De fat-shamed a policeman but was quickly shut down by the Mumbai Police, the cop has asked if "madam" would pay for the treatment of the condition that has made him so obese. Meanwhile, fitness empire owner Vandana Luthra is reportedly trying to reach out to the policeman to help him get back in shape.
Also read: Why the internet needs to 'Keep Calm and Ignore Shobhaa De'
How it began
It all started when De tweeted out a photo of the obese policeman claiming that there was "heavy" police presence in Mumbai ahead of the Brihanmumbai Municipal Corporation (BMC) elections.
The Mumbai Police quickly retorted, and corrected her by saying that the policeman was not from Mumbai — as was evident from his uniform. They also said: "We expect better from responsible citizens like you."
What the policeman said
The policeman in the photo shared by De is actually employed by the Madhya Pradesh Police, and is an inspector named Daulatram Jogawat. He said about his weight: "It is due to my illness that I am so fat, and not due to overeating. I had gall bladder operation in 1993 and I developed insulin imbalance which resulted in my obesity." He added: "If madam wants, she can pay for my treatment. Who doesn't want to be thin?"
Even Twitter mercilessly trolled De about the photo and the reply by the Mumbai police.
Vandana Luthra picks up the cause
Entrepreneur Vandana Luthra, who owns the fitness chain VLCC, has now taken up the cause of Jogawat. She said on Twitter: "We at @VLCCindia will be glad to help Inspector Daulatram Jogawat of @MPPoliceOnline request you to connect us with him [sic]."
Asked about the effort she and her organisation were making, she added: "Imperative that our service personnel who are custodians of our safety stay fit; we @VLCCindia pledge our help to all [sic]." She also said in reply to a tweet: "My team is trying to get in touch with the concerned cop to take this forward."