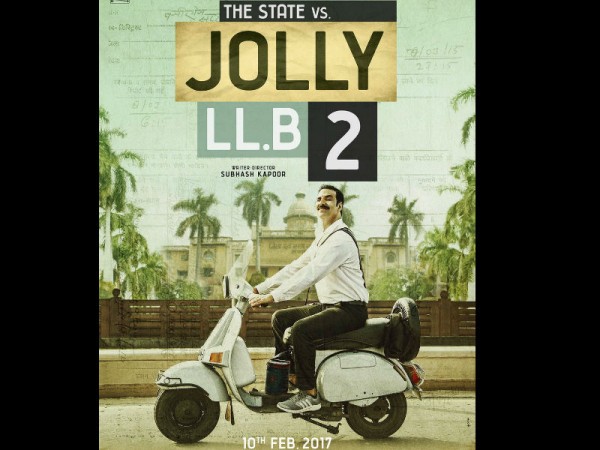 Bollywood superstar Shah Rukh Khan's Raees won hearts in India, but Pakistani fans are disappointed as the movie has been banned in their country. Now, the censor in Pakistan is said to have a problem with Akshay Kumar's Jolly LLB 2 release as well.
Also read: Will Akshay Kumar's Jolly LLB 2 touch Rs 100 crore mark like his previous films?
According to SpotboyE, a newspaper in the neighbouring country reported that Jolly LLB 2's "content undermines Islam ... portraying Muslims as criminals, wanted persons and terrorists." The film's distributor in Pakistan Amjad Rashid informed the daily that the Islamabad Censor Board has not approved of many dialogues, which are related to terrorism in Kashmir.
They have strongly recommended that a few portions of the dialogues/words related to the sensitive dispute between India and Pakistan be muted. The makers of Jolly LLB 2 have reportedly agreed to mute those segments in the film and the film is likely to be released in Pakistan.
"Such things happen and it has happened in Jolly LLB 2 yes, but I am sure it will all be sorted by tomorrow. We have informed the film's producer. They have said that they're okay with it. Lahore and Karachi Censor Boards will see it by tomorrow noon, and mostly we should have the film in our theatres by Friday morning," Amjad told SpotboyE.
Here are the scenes or dialogues that will not be a part of Jolly LLB 2:
The scene where Annu Kapoor humiliates Akshay saying that the latter wears Bata shoes has been chopped by the makers. It's the scene in the trailer where Akshay feels humiliated and slaps Annu as a reaction to his statement.
Central Board of Film Certification has also asked the makers to tone down the 'Based On A True Story' fact in the film.
The word Lucknow in the Holi song has been removed. The changes made were: Replace the word "Lucknow" with "Local" in following dialogues: "Lucknow Kachahri Mein Koi Cheez Time Pe Hui," "Bahar Lucknow Ke Lawyer Mujhe Kya Bulaate" and replace the word Lucknow with "Awadh" in the dialogue, "Yeh Delhi Nahi Lucknow Hai."