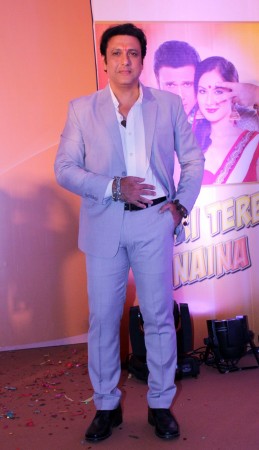 After Shah Rukh Khan, Govinda will be seen flaunting six-pack abs in Saif Ali Khan's "Happy Ending". Call it shocking, call it strange – the chiselled abs fever seems to have caught up with every actor.
Govinda, whose body type has varied from flabby to healthy, has indeed taken the audience by surprise. To essay the role of reel superstar Armaan, it was being thought that the actor wouldn't be willing to play the part.
"He was the first choice for this role. I had 20 per cent hope that he will do the film because we did not know him and our style of films is completely different from his films. I thought he would reject the role. But he saw the humour 10 minutes into the narration. He said 'This is so funny! I have not done anything like this ever before' and he was on board," PTI quoted co-director Raj Nidimoru as saying.
Since a lot of the film is satirical and the humour is observational, the six-pack ab might just be another CGI play. Or, did the actor go the whole hog to get ripped? Only time will tell.
However, if it's for real, the comeback probably stands a chance of being termed as a blockbuster one. Away from mainstream cinema for long, Govinda has two films – "Hero" and "Jagga Jasoos" – releasing in 2015.
Interestingly, according to reports, the actor was thrilled with the idea of drool-worthy contours and readily agreed to the idea of flaunting them onscreen.
Slated for release on 21 November, "Happy Ending" is a romantic comedy, which follows the story of Yudi (Saif Ali Khan), a writer, who has had perennial writer's block and is immensely confused about love. Megastar Armaan, to be essayed by Govinda, sets out on a journey in quest of a good Hollywood script, which can be made into a Hindi blockbuster. The film also stars Kalki Koechlin and Ileana D'Cruz in key roles.
Govinda to flaunt his Six Pack Abs in ' Happy Ending ' !! #Govinda #Saif pic.twitter.com/thv7GSqGtC

— MrShubham (@MrShubham07) November 19, 2014