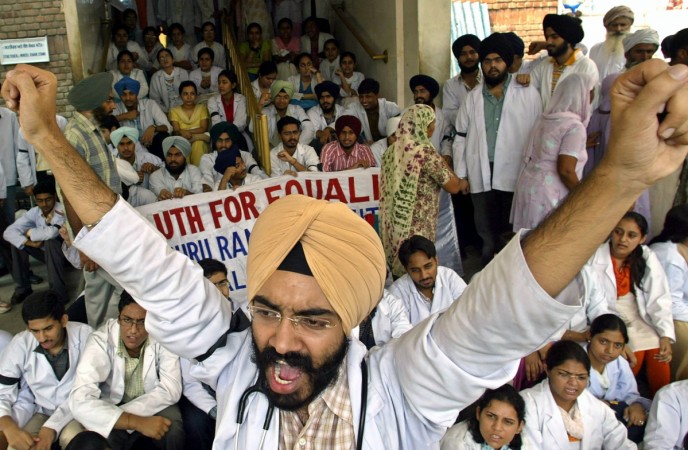 After the Supreme Court came down heavily on medical education regulator Medical Council of India (MCI) for failing to perform its functions, various organisations of doctors have demanded the resignations of MCI members.
Doctors and public health activists under the aegis of the National Coalition for Restructuring of Medical Regulation in India (NCRMRI), which was set up on May 4, has urged all the MCI members to resign on moral grounds, according to a DNA report.
The NCRMRI has also said the existing medical education law, Indian Medical Council Act, should be replaced with a new law that addresses the issues of corruption in the medical education system.
The Supreme Court had on Monday criticised the MCI and the government by saying medical education in the country was at its lowest and that corruption was deep-rooted in the system.
"It is to be borne in mind is that the occupation of education cannot be treated at par with other economic activities. In this field, the State cannot remain a mute spectator and has to necessarily step in, in order to prevent exploitation, privatisation and commercialisation by the private sector," the Supreme Court bench said.
Abhay Shukla, an NCRMRI member, was quoted by DNA as saying that there has been no concerted effort to end corruption in MCI for nearly seven years now.
Union Health Minister JP Nadda has meanwhile said a committee constituted to look into the MCI's functioning would submit its report within a month.
"The Supreme Court has given its judgment. We had one-and-a-half months ago formed a committee to look into the activities of the MCI and suggest measures for improvement and what needs to be done there. The committee has to give its report by May-end," he said. The four-member committee, headed by NITI Aayog vice chairman Arvind Pangariya, has been asked to recommend measures for restructuring the medical education regulator and bring overall improvement in its functioning.
In March, a parliamentary standing committee on health had slammed the MCI for failing to regulate the medical education sector in the country. The panel, constituted on Sept. 1, 2015, to review the functioning of the health department, had tabled its report in the Rajya Sabha stating that the MCI had been violating ethics while providing licences to the country's medical colleges.