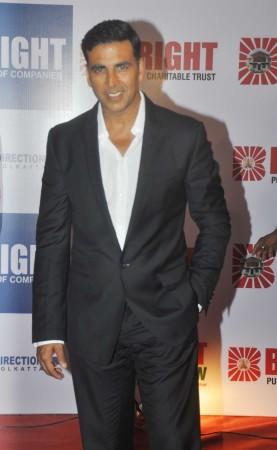 Karan Johar has managed quite a feat in "Koffee with Karan" this season, roping Salman Khan, Aamir and finally Akshay Kumar.
Akshay will reportedly be a guest in Karan Johar's famed couch. However, the actor will make a solo appearance in the show and will not be accompanied by his actress wife Twinkle Khanna.
Reports state that despite Karan's great bonding with Twinkle (Tina) the latter refused to be a part of the show.
"Yes Akshay is coming on my show. He is shooting with me tomorrow. I am exceptionally thrilled to have him on the show," Daily News Analysis quoted the film maker.
Akshay is said to have been unsure about appearing on the show, given his reluctance of discussing his personal life on a public platform. But Johar's convincing skills appears to have worked, as the actor finally agreed to be a part of the chat show.
The "Namaste London" star's appearance on the filmmaker's show is news, considering that the duo has never really been friends until recently.
Much like Karan's new found friendship with Aamir Khan, Akshay bonded with the director after signing a film under his banner, Dharma productions. The actor had given nod to Karan's drama film "Gutka" which will be directed by Punit Malhotra.
Akshay is known to be one of the best actors in the industry and Salman Khan in his debut episode had praised Akshay as the best among his contemporaries. The superstar had said Akshay experimented successfully with almost all the genres and lauded his perfect comic timings.