A week after posters declaring Congress vice-president Rahul Gandhi as missing surfaced in Amethi, it was the turn of Congress party chief Sonia Gandhi to go 'missing' in Rae Bareli.
Dozens of posters, describing Sonia Gandhi as 'missing' along with 'a reward for anyone who can locate her', surfaced in Rae Bareli, reported IANS.
The posters were put-up at Gora Bazaar, Mahanandpur and the government Colony, declaring it was released by the people of Rae Bareli who felt cheated by the absence of their parliamentary representative.
The 'missing' posters were quickly removed by Congress party workers.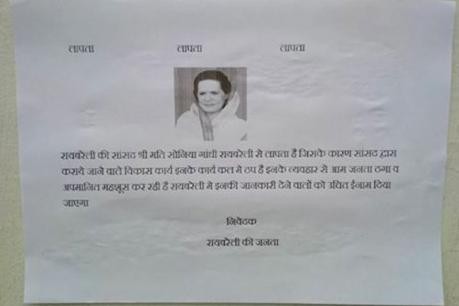 This year, Sonia Gandhi has not visited her parliamentary constituency, whereas Rahul has not visited his parliamentary constituency Amethi since February.
The Congress President had given the campaign a miss due to her ill health.
Local Congress leaders said "this was a campaign by the Rashtriya Swayamsevak Sangh (RSS) and Bharatiya Janata Party (BJP)".
What's your opinion on this issue?
For more videos, click here.