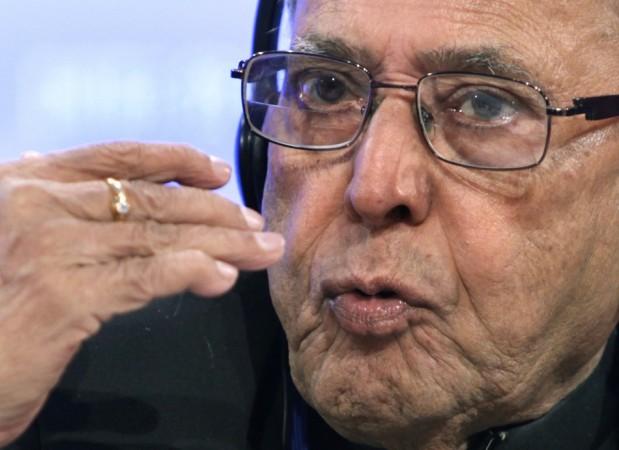 In the wake of the upcoming Presidential poll, current Finance Minster Pranab Mukherjee will be officially filing his resignation by July 25 as the Congress has nominated him for the top post.
Now the question is who will take over the Finance Ministry and handle the daunting prevailing challenges in Asia's third-largest economy. In the last quarter, India's economy skidded to a nine-year low of 5.3 percent even as inflation rose to nearly 7.6 per cent in May.
Wide current account and fiscal deficits have battered investment sentiment and recently sent the rupee tumbling to a record low, raising the spectre of a balance of payment crisis, a semilar situation India faced in 1991.
Sources say that Prime Minister Manmohan Singh would take the finance portfolio for a while before the ruling Congress leaders zero in on a potential candidate.
With no word on the next Finance Minster from the Congress and an opening in the finance ministry, we have compiled a list of probable candidates for FM post based on their credentials, experience and stature as political leaders.
P Chidambaram, Home Minister
He holds Masters in Business Administration MBA from Harvard Business School and had served as finance minister from May 2004 to November 2008 before assuming the office of Home Ministry.
Chidambaram took over the Ministry of Home affairs after the resignation of Shivraj Patil as he was slammed for being ineffective in tackling surging terrorism attacks in the country. When Chidambaram became Home Minister, India had just suffered the brunt of terrorism harboured from Pakistan: Mumbai terror attacks 2008.
Strength: Chidambaram has already served as Finance Minister and is highly regarded for his efficiency in effectively dealing with challenging circumstances.
Weakness: Chidambaram has been associated with the 2G spectrum scam controversy. He came under fire after the opposition parties alleged that he refrained from doing his duty as finance minister to stop the irregularities during the allocation of 2G air waves in 2008. He also carries the stigma of allegedly being part of Aircel-Maxis controversial deal in order to monetarily benefit a company owned by his son, Kartik Chidambaram.
C Rangarajan, chairman of the Economic Advisory Council to the Prime Minister
Seen as a dark horse in the running for finance minister, he is one of the most trusted aides of Prime Minister Singh.
Rangarajan has worn various hats, both within and outside the government, and would bring long experience to the job. Unlike other contenders, he is free from controversy so far.
Strength: Rangarajan is widely perceived as a hawk who frowns upon expansionary fiscal policy and high inflation, and is an advocate for fuel subsidy reforms and long-pending financial sector reforms. He favours building consensus before allowing foreign investment in multi-brand retail and aviation.
Weakness: However, Rangarajan is not seen as a political heavyweight, even though he was governor of Andhra Pradesh for six years and was a member of the Rajya Sabha. Congress is seen to prefer a politician who can deliver votes in the 2014 parliamentary elections.
Jairam Ramesh, Rural Development Minister
He can be termed as adherent economics lover. Although he has engineering background, he always showed interest in economics. He is an economist graduated from Massachusetts Institute of Technology (MIT).
Ramesh is one of the no-nonsense ministers and is one of the subset of Congress ministers who have not been associated with any scandals yet. He is touted as a trouble-shooter for Congress party.
Ramesh, meanwhile, has worked with the World Bank and Planning Commission for a while. In 1991, he was the advisor to the Prime Minister. Ramesh has also worked in finance ministry under the leadership of Manmohan Singh in Narasimha Rao administration.
Strength: Ramesh's love for economics and his experience related to the finance ministry over the years are the qualities that make him a potential candidate for the FM. As an added advantage, he is not associated with any scams, so far.
Weakness: Although Ramesh has maintained a clean political image, he carries the label of anti-development as he objected several mining and infrastructural projects in the country fearing environmental implications.
Montek Singh Ahluwalia, Deputy Chairman of Planning Commission
The Oxford-trained economist has been a key figure in Indian economic policy since the mid-1980s. He is an influential adviser to the Prime Minister and is also India's Sherpa for the G20 Summit.
A supporter of open markets, he has been pushing the government to implement long-pending reforms like ending controls on fuel prices, lifting caps on foreign stakes in the insurance sector and allowing foreign supermarkets.
He is close to Singh and was a key member of the team that navigated the economy out of the 1991 balance of payment crisis.
Strength: Ahluwalia is said to harbour political ambitions and was seen as front-runner for finance minister in 2009.
Weakness: Ahluwalia is not much exposed to politics and is thought by Congress to be too market-friendly. He drew flak from all the sides for his definition of poverty line at Rs 32 a day.
Kamal Nath, Minster of Urban Development
A B.Com graduate and enjoys close relationship with the Gandhi family. He has suggested several economic reforms realated to Indian economy. In 2011, he addressed the World Economic forum on improving market access for developing countries on agriculture sector.
Kamal Nath strongly advocates implementation of public-private partnership in realizing big infrastructural projects.
Strength: Kamal Nath is an economic enthusiast. He has strong views in building Indian economy and making it a big competitor in the world market.
Weakness: Nath is soaked in controversies: He has been accused in 1984 anti-Sikh riots and was fined by the Supreme Court in 2002 for damaging the environment by building a motel on the bank of Beas river near Kulu-Manali in Himachal Pradesh. He also carries the allegations of involvement in bribery.
Anand Sharma, 59, trade minister
A lawyer-turned politician, Sharma is perceived to be reform-oriented and enjoys the confidence of the Gandhi family.
He is credited with arresting the slide in India's exports after taking over as trade minister in 2009 through a combination of bilateral trade agreements and diversification of export markets. He has also overseen bold steps to liberalise trade ties with arch-rival Pakistan.
Sharma has been pushing for liberalising foreign direct investment rules and succeeded in getting the government's approval for allowing foreign direct investment (FDI) in multi-brand retail, an initiative thwarted by coalition allies. Permitting FDI in the aviation sector is the next big ticket item on his agenda.
Strength: He has a mindset to bring about reform. His efforts to get government's approval for FDI in retails is laudable.
Weakness: Sharma's stature in the party could be a handicap. He is not seen as a political operator and does not bring a large base of political support. Blame for the embarrassing flip-flop on FDI in retail is often put at his doorstep.
(With inputs from Reuters)