Ever since HMD Global acquired Nokia's brand name for smartphones, it has smartly been investing in devices that'll be relevant despite the fierce competition in the global market. With the launch of Nokia 3310, HMD brought back some old memories, and the company used it to push Nokia to the mainstream market.
After playing the field for little over a year now, HMD Global is reviving an old Nokia phone series which was discontinued by Microsoft. The company is breathing new life into Nokia Asha phone series, and the evidence of that is the acquisition of the label itself, EU IPO trademark filing indicated. The trademark to acquire Asha was registered in November 2011 and the transfer was completed on January 9, 2018.
In case you do not recall Nokia Asha phones, the Finnish smartphone maker used the label to sell low-cost feature phones and smartphones. Even though Asha label under Nokia was synonymous with affordable smartphones at a time when budget smartphones was merely an idea. HMD might consider reviving the smartphone line instead of a feature phone lineup.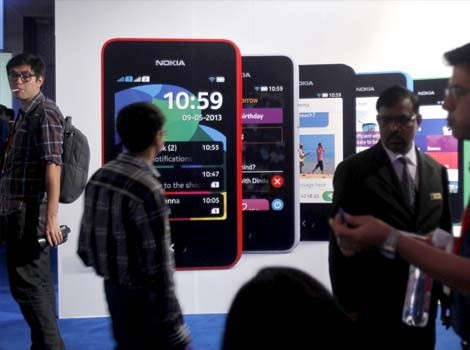 According to the listing, HMD Global can use Nokia Asha label for:
1. Computer software platform used in mobile telephones and smartphones; mobile phones and smartphones
2. Wireless communication services namely for computer software used in mobile telephones and smartphones in class 38, Nokia-focused blog Love Nokia pointed out.
HMD Global is yet to confirm the acquisition, but it makes sense to use a trusted brand label to push for affordable smartphones in markets like India.
Even so, it's not going to be an easy battle. HMD Global is already rumoured to be working on Nokia 1 smartphone that'll run on Google's Android Oreo (Go Edition) platform. The entry-level smartphone is expected to launch in March, following a global unveiling at the Mobile World Congress in late-February.
As part of Android Go OS optimisation, Nokia 1 will run apps like Files Go, Google Go, Maps Go and YouTube Go, among others to take up 50 percent less space, giving users more room for other things like music and photos.
Rumoured features of Nokia 1 are 1GB RAM, 8GB storage, 8MP/5MP rear and front cameras, and a 2,000mAh battery to run the show. The handset will have a design identical to other Nokia smartphones, feature a polycarbonate back with a matte finish, and will be priced around Rs. 7,000.
Nokia's Asha series will likely target an even lower price range. It is possible the said series will compete strongly against the likes of Reliance JioPhone and similar alternatives from brands like Micromax, Intex, itel.
If you are waiting to upgrade your feature phone to a 4G-smartphone, 2018 is going to have plenty of options. Stay tuned.