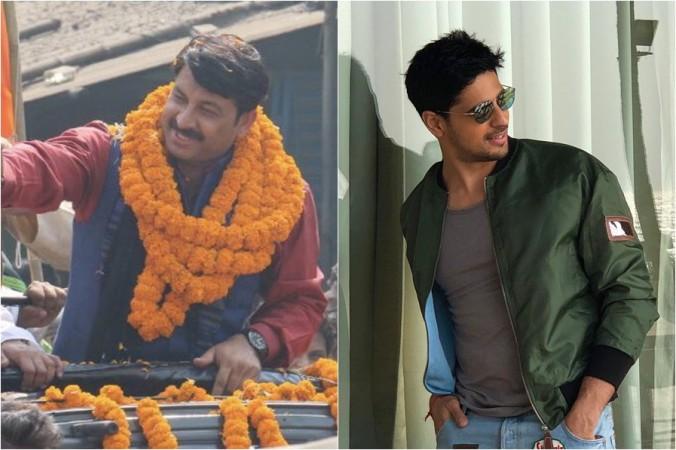 A couple of days ago, actress Neetu Chandra slammed Sidharth Malhotra for allegedly insulting Bhojpuri language when he appeared on Salman Khan-hosted controversial reality show Bigg Boss 11 with Manoj Bajpayee and Rakul Preet Singh.
While Sidharth has already apologised on Twitter, another Bhojpuri actor and BJP MP Manoj Tiwari has stated that he would file a Public Interest Litigation (PIL) against Sidharth Malhotra.
"I just got to know about this. This person's behaviour is utterly shameful and extremely objectionable. I will file a PIL against his remarks on Bhojpuri language by Thursday. This is a country where the first president Rajendra Prasad spoke Bhojpuri. Bhojpuri is spoken by 22 crore people in Uttar Pradesh, Bihar and Jharkhand. The language spoken by the maximum number of bureaucrats in India is Bhojpuri. Sidharth has insulted all of them," Manoj Tiwari was quoted as saying by The Quint.
Another top Bhojpuri actor Ravi Kishan has also expressed his displeasure on Sidharth's comment and told The Quint, "This is nothing but ignorance of the highest order and shows what isolated lives Bollywood stars live. For his kind information, Bhojpuri is the native (language) of many eminent scholars, scientists and artistes. Bachchan Saab and his father the great Harivansh Rai Bachchanji spoke Bhojpuri. The first president of India, Rajendra Prasad spoke Bhojpuri. In fact, it was Rajendra Babu (as he was affectionately called), who requested actor Nasir Hussain (not the filmmaker but the character actor) to make India's first Bhojpuri film 'Ganga Maiya Tohe Piyari Chedaibo'. That's how the Bhojpuri film industry started, of which I am a proud part. Sidharth should look beyond Bollywood. This is a land of multiple languages and cinema."
However, Sidharth's Aiyarry co-star Manoj Bajpayee, who himself is a Bhojpuri speaking person, has come out in defence of the actor saying that there was no intention of making a mockery of the language.
"It was all fun and there was no intention of making a mockery. I vouch for it as I was there and I understand and speak the language as good as or better than many.बुझाइल?नीक रही।खुस रही ।" Manoj Bajpayee tweeted soon after Sidharth posted a public apology on Twitter.
It was all fun and there was no intention of making a mockery.i vouch for it as I was there and I understand and speak the language as good as or better than many.बुझाइल?नीक रही।खुस रही । https://t.co/Sgi4zEctnU

— manoj bajpayee (@BajpayeeManoj) January 23, 2018
During the episode, Manoj Bajpayee asked Sidharth to deliver a dialogue in Bhojpuri and said, "Shikar to sab kehu karela, lekin baagh jaisan sikar kehu na kare." Sidharth repeated his lines and said, "Latrine wali feel aayi bolte hue but accha laga (I got a toilet-like feeling while mouthing it but it was nice)."
"I recently tried speaking a new language while I was on a TV show. In the process if I inadvertently hurt anyone's feelings or sentiments, I apologise and assure you that no disrespect was meant in any way," Sidharth tweeted an apology after Neetu Chandra blasted him on Twitter.
Do you think Sidharth Malhotra's remark on Bhojpuri was offensive? Was it blown out of proportion by Neetu Chandra?