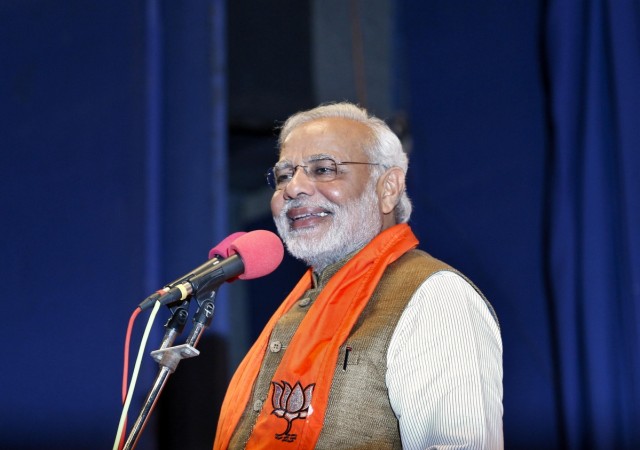 Within a few hours of the swearing-in ceremony on Monday, President Pranab Mukherjee will host a private dinner for 25-30 guests, including Narendra Modi and the leaders of SAARC countries, such as Prime Minister Nawaz Sharif, who arrived early on Monday morning for the occasion.
The very restricted guest list for the power dinner also includes Vice President Hamid Ansari, some of the newly sworn-in ministers and a few senior BJP Leaders. The high-profile dinner will be hosted in Rashtrapati Bhavan's Grey Dining Room, The Times of India reported citing secretary to the President, Omita Paul.
The grand dinner will feature a list of delicious Indian dishes in the menu for the occasion. Besides other dishes from across the country, the menu will include food from the state of Gujurat, which has been the flavor of the election season this year.
The famous Gujarati Dhokla has made its way to the high tea menu to be served after the swearing-in ceremony.
The menu has been kept largely vegetarian in keeping with the preference of the new Prime Minister of India. But with the long list of invitations being sent across to foreign dignitaries and head of states, some non-vegetarian items will also be in the menu including kebabs and fish tikkas.
The dining room will host the grand dinner which will also include chicken and mutton items, Arbi Kabab, Thali with 8 items, and sweet dishes such as Pineapple Halwa, Sandes, mango srikhand, cut fruits and more.
Here is the Menu of the some of the most interesting dishes to be served at May 26 Event – according to Times of India:
Chilled Melon Soup: Chilled soup made of muskmelon and herbs.
Chicken Hazarvi: Chicken pieces that are marinated in mixture of cheese, cream and cooked in clay oven.
Tandoori Aloo: Potato cooked in clay oven and stuffed with light masala.
Galauti Kabab: Grilled medallions of tender lamb minced with spices
Prawn Stew: Prawns cooked in coconut milk and Indian spice (Kerala special)
Chicken Chettinad: Chicken cooked in coconut milk and pepper (Tamil Nadu special)
Bibali Kofta Curry: Vegetable dumplings simmered in rich gravy
Jaipuri Bhindi: Okra wrapped with Indian herbs, deep friend and seasoned with chat masala (Rajasthan special)
Kela Methi Nu Shaak: Plantain and fenugreek leaves cooked together with cumin seeds. (Gujarat special)
Potol Dorma: Pointed gourd stuffed with vegetable and potatoes and cooked in onion gravy.