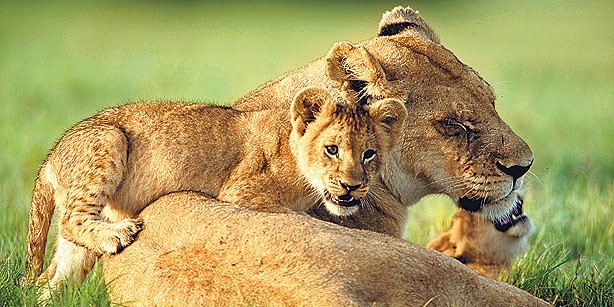 A Danish zoo, which sparked a massive online outrage and prompted an international outcry by killing and dissecting a healthy giraffe and telecasting the entire procedure live online recently, has now killed two lions and their two cubs in order to make way for a new male.
The Copenhagen zoo said it "had to euthanize" two cubs and their parents because they failed to re-home them. It added that the 16-year-old male and 14-year-old female were nearing the end of their natural lives.
"Because of the pride of lions' natural structure and behavior, the zoo has had to euthanize the two old lions and two young lions who were not old enough fend for themselves," read a statement by the zoo authorities.
According to the zoo, the 10-month-old cubs "would have been killed by the new male lion as soon as he got the chance".
The zoo had put down a healthy giraffe called Marius last month as he was considered genetically unsuitable for breeding.
The Guardian quoted a zoo spokesperson saying that no public dissection of the animals will be held this time as they did with Marius since "not all our animals are dissected in front of an audience".
"The zoo is recognized worldwide for our work with lions, and I am proud that one of the zoo's own brood now forms the centre of a new pride of lions," the newspaper quoted the zoo's chief executive, Steffen Straede as saying.
Last month, the zoo's scientific director Bengt Holst received death threats over the decision to kill the 18-month-old Marius. An unprecedented public outrage ensued after the giraffe was put down with a bolt gun, before little children were allowed to watch his body being chopped, dissected and fed to the lions.
The move shocked thousands of animal lovers across the world after a petition, signed by thousands of people online, to save the animal had failed. The zoo defended the action by saying that they had no choice but to prevent the animal from reaching adulthood. Under European Association of Zoos and Aquaria rules, inbreeding between giraffes is to be avoided.
The anger towards the zoo's actions was often referred to as the "Disneyfication" of zoo creatures - people's reaction to the way animals look cute and loveable, and therefore think they should not be killed.