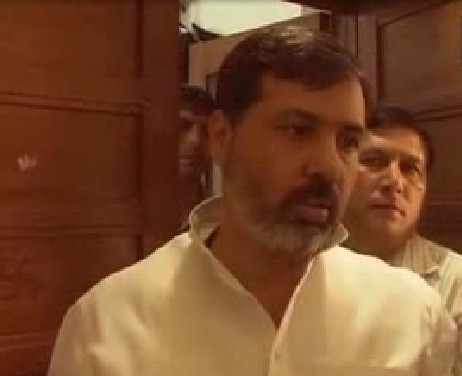 Bahujan Samaj Party (BSP) MP Dhananjay Singh, who was arrested over the murder of his domestic help, has now been accused of sexually assaulting a railway employee.
A 42-year-old woman has filed a complaint at an east Delhi police station alleging that the parliamentarian had repeatedly raped her between 2004 and 2009.
Deputy Commissioner of Police (East) Ajay Kumar told PTI that Singh repeatedly raped the woman at gunpoint 'and threatened with dire consequences if she reported him'.
"We have registered a case of rape and criminal intimidation against Singh. We are taking the victim for a medical examination today and her statement will be recorded by a magistrate," the official added.
An FIR of rape and criminal intimidation under Sections 376 (rape) and 506 (criminal intimidation) of the Indian Penal Code have been filed against Singh, an MP from Jaunpur in Uttar Pradesh.
The 38-year-old MP and his wife, who was a dental surgeon at RML Hospital in Delhi, have been remanded in judicial custody over the murder of their domestic help. Singh is facing charges of destroying evidence.
The maid, Rakhi Bhadra, allegedly died from head and body injuries. The MP's wife, Jagriti Singh, has been accused of beating the maid during Diwali festival weekend.
Both Dhananjay and his wife were arrested on 5 November, a day after Rakhi's death. Police discovered the maid's body in their house in south Delhi. The husband and wife have also been charged with torturing another 17-year-old domestic help.
Meanwhile, BSP chief Mayawati has refused to take action against the parliamentarian saying that her party was awaiting the court's verdict in the murder case.
"We are looking as to what action is being taken legally against him...when law takes a final decision with regard to him we will also take action," Mayawati had told PTI.