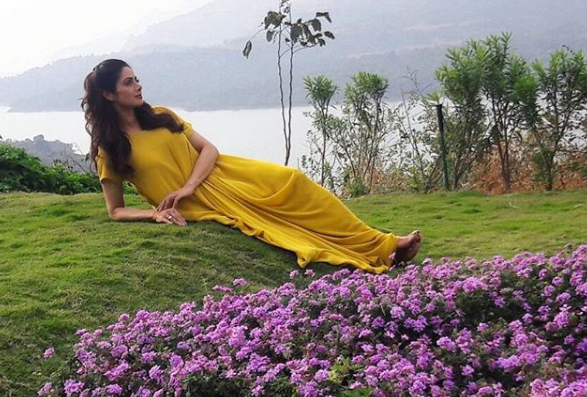 After Shobhaa De offended Twitter with her uncalled comment on Sridevi's funeral, she penned down her memories and recalled the moments from Lahore, where she was attending an event when she heard the tragic news.
In Mumbai Mirror, Shobhaa De wrote a column titled: 'Sridevi: A legacy of Love'. She compared Sridevi with Princess Diana and wrote: "There are but a handful of public figures who inspire this level of adulation. Sridevi was one of the blessed tribe. Watching the sea of mourners surging around her beautifully decorated cortège, one thing became immediately obvious — these were genuinely grief-stricken fans from across India, not hired crowds. Nor were they the usual gawkers, hell-bent on catching a glimpse of star attendees."
Remembering Rajesh Khanna's last journey, Shobhaa De said: "Yes, it was spectacular. But Sri's farewell lap, was something else."
Shobhaa De was at The 6th Lahore Literature Festival when she heard about Sridevi's death. In Mirror's column, she wrote: "For the first few minutes, nothing registered. I thought it was someone's idea of a terrible joke. Sri? Dead? In Dubai? Impossible! She was not ailing. Everybody had feasted on images of her swaying at a high-profile wedding only a couple of days earlier. I doubted the veracity of the reports that had started to trickle in."
Saddest news . Our luminous and supremely talented Sridevi has left us to become one if the brightest stars in the firmament. RIP.

— Shobhaa De (@DeShobhaa) February 25, 2018
"And not much to hang on to, except vivid memories of the last time I had seen her in all her glory, dressed in a fiery red gown at Tina Ambani's 60th birthday celebrations," recalled Shobhaa De.
She wrote: "A young man sought me out as I was leaving to say his ammi had shaken him awake at 3 am to break the sad news. He had tears in his eyes as he recalled her songs, which his mother used to sing as she prepared the family meals. "Pakistan loved Sridevi a lot," he said, as we held hands and bowed our heads in her memory."
Shobhaa De concluded her column by writing: "Her legacy is one of innocence and love. Cinema defined her life. Not since Madhubala have we known such a talent. Our hearts reach out to her young daughters and husband, as they struggle to come to terms with their monumental loss."
To read the full column, click here.