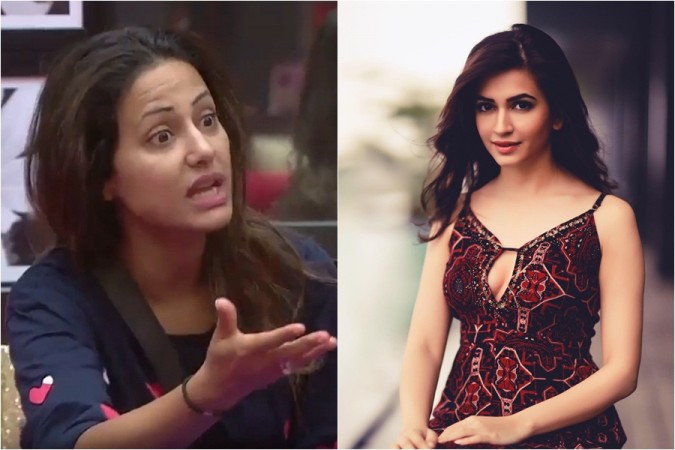 Hina Khan recently ruffled many feathers when she degraded and stereotyped South Indian films, saying in the Bigg Boss 11 house that people like "bulging" heroines down South.
Her derogatory remarks didn't go well with South actress Hansika Motwani, who lashed out at Hina on social media. Now, Kriti Kharbanda, who has worked in many South Indian movies, has expressed her desire to slap Hina Khan for her comments.
"I had great respect for Hina Khan before that. She is a very big name on television. That is not how you talk about people. You can look at me, I have been an actress down south (and I am not bulgy). There is no need to (say such things on national television). It's rather unfortunate that an actor is talking like that, and an actor of that caliber, that too," an upset Kriti Kharbanda vented in an interview with Spotboye.
"Be it Tamannaah, be it Kajal Aggarwal, be it Samantha Ruth Prabhu, be it anybody — our weight is our issue, if we want to gain weight we gain weight," Kriti said, adding that her Shaadi Mein Zaroor Aana director Ratna Sinha had also asked her to gain weight for her character in the film since the script demanded it.
However, Kriti didn't stop there. Referring to the "bulging" remark, the actress said she would slap Hina then and there, and that if characters demand that heroines gain weight, they have no qualms in doing it.
"I am very angry. That's not how you talk about an industry. It's all about characters you play. Even Rajkummar Rao put on so much weight for his character in Bose. So what? We are all playing characters. I am sorry I am going to say this out loud, if someone asked her to put on weight, they
probably needed it for the character. How so you know? What do you mean 'bulging, bulging' do thappad khayegi udhar hi (I will slap her then and there)," Kriti said.
The controversial comments of Hina Khan come from a viral video where she is heard saying: "I had also received two offers, which demanded me to put on weight. Both the films were made by big banners."
She also said she regrets missing out on the opportunity to work in Seethamma Vakitlo Sirimalle Chettu. "It was Venkatesh's film, the one who acted in Anaari opposite Karishma Kapoor, and Mahesh Babu was also part of the film. The two stars had come together after years," Hina was
seen saying in the video.