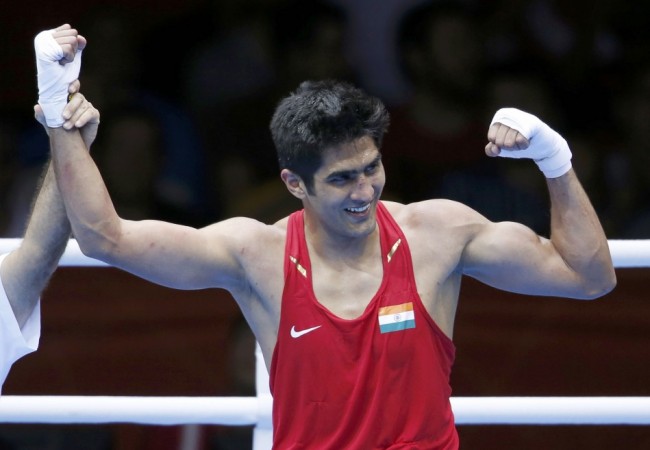 For bringing glory to India in the sport of boxing, Vijender Singh was appointed as Haryana Poilce Deputy Superintendent of Police (DSP) by the previous Bhupinder Singh Hooda government, but the equation could change after the ace pugilist from Haryana decided to turn professional.
Vijender, after taking the prestigious post in Haryana Police, became a government servant, and can therefore not take other employment or receive income from other sources without prior permission. Haryana Police has the right to take action against Vijender, if the boxer does not resign from his post.
"He may resign from the service on his own if he has decided to go professional. If he doesn't do this then disciplinary action can be initiated against him and he can be removed," Haryana ADGP (administration) K K Sharma told Times Of India. "We will issue a notice to him seeking his version. He will be asked to explain his position."
Vijender is currently also under probation.
With Vijender already having taken a huge call in his career to forego a chance to represent India once again in the Olympics, the pugilist should not have any issue in resigning from the DSP post, if forced to do so.
Vijender, who is said to have been encouraged to go pro after watching the Manny Pacquiao vs Floyd Mayweather fight , is said to have signed a lucrative multiyear deal with Queensberry Promotions.
The Olympic bronze medallist is expected to make his pro fight debut in September, and he will undergo some serious training in the UK to meet the demands of pro boxing.
Vijender has joined the likes of Gurcharan Singh and Dharmendra Yadav amongst other Indian boxers, who have decided to go pro.
This may be a huge step forward in Vijender's career, but it is a step back for India's 2016 Rio Olympics preparation as the country had huge hopes from the 2008 Beijing Olympics medallist.
Though Vijender may no longer be able to represent India in the Olympics, the 29-year-old from Haryana has a chance to place India in the global map of pro boxing. But, the road ahead for Vijender is not an easy one.