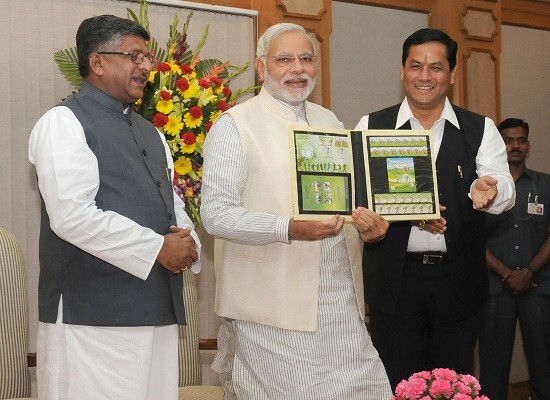 Prime Minister Narendra Modi could engage in a series of sports diplomacy, having received invitations to sporting events from national leaders, first from Brazil, and now from the United Kingdom.
About two weeks after Modi received an invitation from the Brazilian President Dilma Rousseff to watch the FIFA World Cup Final on 13 July, United Kingdom PM David Cameron has sent him an invite for the upcoming Commonwealth Games to be held in Scotland.
Cameron has invited Modi to attend the Glasgow Commonwealth Games that is slated to begin on 23 July, as reported by The Economic Times. British government sources were reported saying that Modi's visit for the games would also be an official one as it would mark the first meeting between the two national leaders.
While Modi was slated to visit Brazil for the BRICS summit, Rousseff sent him an invite also to join in the football tournament that is being followed by millions across the world. Modi had in fact even released commemorative postage stamps for the FIFA Worl Cup, and had even tweeted about it saying – "Sports brings a spirit of togetherness. Am sure FIFA World Cup will become a bridge to connect nations of the world." However, news reports suggested that Modi is yet to take a decision on attending the football final.
Modi's participation in the games also seems uncertain, given that the Indian Parliament will be in session till 14 August, with the Budget session set to begin on 7 July.
India, a Commonwealth country itself, will compete in the Glasgow Games this year, along with other Commonwealth nations such as Australia, Canada and New Zealand.
Cameron's invite to Modi seems like an overture to re-establish ties with him after the West had boycotted him over the 2002 Gujarat riots. According to the ET report, the United Kingdom was one of the first Western countries to have ended Modi's boycott and resume relations with him.
Last year, when there were strong speculations about Modi coming to power in this year's general elections, Britain's Foreign Office Minister Hugo Swire had met the then Gujarat Chief Minister last March. Swire had reportedly called the meeting "a logical next step" in building the UK's relations with the Gujarat CM.
Even United States President Barack Obama extended an invitation to Modi after he took over as PM last month, and there are several reports suggesting that American lawmakers are also seeking to get Modi to address a joint session of the US Congress.