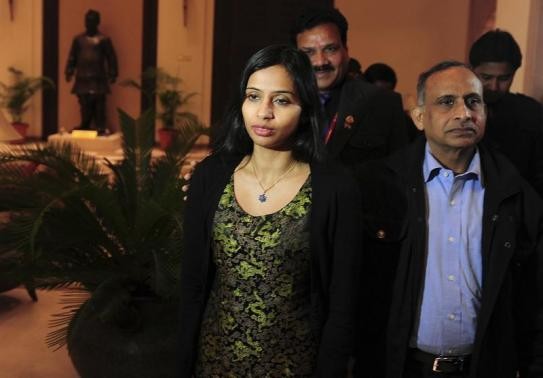 Learning from the ongoing India-US tensions over the visa fraud case against former Deputy Consul General Devyani Khobragade, India's External Affairs ministry has decided to change the status of domestic helps who go to the US with Indian diplomats.
According to NDTV, the domestic workers who go to the US in the future will have their visas subject to Indian laws, rather than the US laws, due to which Khobragade's housekeeper Sangeeta Richard was able to lodge a complaint against the Indian diplomat at the American state department.
Since her indictment in the visa fraud case and Khobragade's transfer back to India, other Indian diplomats in the US have reportedly been worried that the authorities are likely to act against them, since their domestic helps come on A3 visa, subjecting them to the US laws, like Richards.
There are at least 14 such cases in the US right now, sources told the news channel. In order to the change the status of Indian workers, the Ministry of External Affairs needs clearance from the Finance Ministry.
Foreign Secretary Sujata Singh has held a couple of meetings with the officials of the concerned ministry.
The meetings were held a day after the US state department spokesperson Jen Psaki stated during a press briefing that the US authorities take issues related to human trafficking 'seriously'.
"We are committed - and this is standard practice as we communicate with foreign diplomats, of course - to ensuring all domestic workers are paid for all hours worked. We continue to work with foreign missions in the United States to ensure all diplomatic and consular personnel are aware of and abiding by their obligations under United States law. So that is what we communicate as a standard practice," Psaki said on Friday.