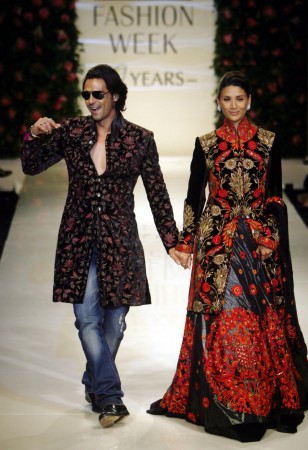 Sussanne Khan, who recently divorced Hrithik Roshan in a family court in Mumbai, is known to be close to actor Arjun Rampal and his wife Mehr Rampal for long.
Both Arjun and Mehr have been through thick and thin during Roshan-Khan's troubled married life, despite some initial rumours of Arjun's involvement in the A-list couple's split.
Even Mehr, who considers Khan as her soul sister, has always maintained that the rumours of Arjun-Khan's relationship are baseless.
However, a report has started surfacing, claiming that the star's wife has apparently found out that about two months back, Khan and Arjun had travelled abroad to spend some quality time with each other, reported The Times of India.
The report further stated that when Arjun's wife decided to confront her husband and dear friend, they both denied and maintained that they are just good friends. But, this time around, an inconsolable Mehr was apparently in no mood to pay heed to their repeated denials.
"Arjun started staying in a five star hotel in the city under the pretext of preparing for a special role he had bagged. A heart-broken Mehr stayed home, looking after their daughters and Sussanne continued with her duties of being a good mother to her sons," a friend close to all three celebs had reportedly told the daily.
Also, according to the daily, another star wife close to both Mehr and Khan mentioned that both the ladies are no longer friends.
However, it turned out that the news is a hoax as Arjun took to his Twitter handle to slam the rumours.
Bombay Times, who paid you? Who are these faceless accusers? If you have the guts reveal them first. Stay away from me and my family.

— arjun rampal (@rampalarjun) November 24, 2014
@BombayTimes_TOI will do a hit job for a price...Who paid u to run a filthy piece on @rampalarjun & his marital troubles?? — Sir Juda (@Sir__Juda) November 24, 2014
So led by @sagarikaghose, Bombay Times does it again and this time targets are @rampalarjun & @iHrithik .. http://t.co/Vlav4Fmm29

— Nitish Kumar ™ (@nkumar_) November 24, 2014
Another person close to Arjun tweeted: "One of my top fav Model & Actor @rampalarjun is just become victim of yellow journalism by @BombayTimes_TOI . Shame #TOI"
While the news is going viral, Arjun's move surely puts an end to the rumours, thereby hinting that all is well between the happily married couple and their friendship with Khan.
With such fake news, it appears like the leading daily has once again put them in trouble after the much-talked about Deepika Padukone's cleavage controversy.
Padukone's stand against the leading daily for her much-controversial cleavage row was supported by many celebs from the industry as well as the public.