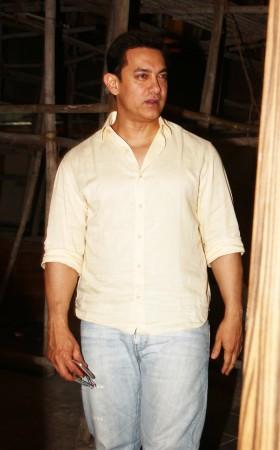 Aamir Khan, who broke all records with his latest release "PK", is busy preparing for his next film, "Dangal". Although Nitesh Tiwari's "Dangal" is expected to be released in Christmas next year, Mr. Perfectionist, who has no releases until then, has reportedly decided on his next project.
"Aamir is now busy shooting for 'Dangal' but he plans to release it next Christmas. He does not want to lose out on time. He has already decided on his next project." a source told DNA.
It has turned out that Khan will work on a film directed by his manager. "His manager is turning a director and expectedly, he has turned towards Aamir for help who has readily agreed to be a part of the film" the source added. "The film revolves around a teenage girl who saves her mother from her abusive father with the help of an alcoholic divorcee".
If reports are to be believed, Khan will be seen playing the role of the alcoholic divorcee.
The makers are also in talks with "Queen" star Kangana Ranaut to essay the role of the mother in the film. However, nothing has been confirmed as of now.
"Talks are on with Kangana for the film. Aamir is very fond of Kangana and has showed interest in working with the actress. Kangana, on the other hand too follows Aamir in a lot of ways. The director is planning to cast Kangana as the mother. But nothing has been finalised yet," said the source.
The 50-year-old star, however, has denied signing any film as he currently wants to focus on "Dangal" alone.
"Dangal" has Khan playing the role of a wrestler and will see him in three different stages of his life. The 49-year-old actor will play a 19-year-old, a 27-year-old and a major portion of the film will see him as a 55-year-old man.