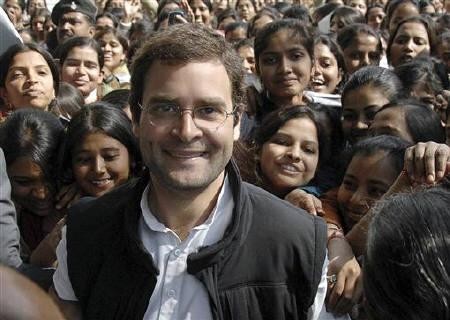 Addressing a rally in Shahdol district of Madhya Pradesh, Congress Vice President Rahul Gandhi struck an emotional chord with the public by pledging to embark on a new form of politics wherein elected leaders spend time with the common man.
Reiterating UPA's achievement in getting the Food Security Bill passed during the monsoon session of Parliament, the Gandhi scion referred to his mother and Congress president Sonia Gandhi saying, "She was not able to vote for the food bill despite fighting for it. She cried for not being able to press the button. This is not about politics but respect."
Extending a hand towards the tribal community, Rahul asserted to empower the tribal population in MP. "Tribal youth is poorly represented in the Parliament and this has to change," he said.
The state, which will go for polls on 25 November, and has a sizeable tribal population of 12.23 million, constituting to about 20 percent of the total population in the state.
Taking a swipe at the Congress party, Bharatiya Janata Party (BJP) spokesperson Shahnawaz Hussain told ANI, "Except for photo-ops with the tribals, Congress hasn't done much for them."
Rahul also attacked Narendra Modi, the Opposition prime ministerial candidate for 2014 Lok Sabha Elections, saying, "People think that if they build infrastructure they can fill stomachs."
During a conference at the National Summit on Inclusive Urban Development in Gandhinagar earlier in the day, Modi said, "Urbanisation is both strength and an opportunity. We need to adopt latest technology and modern initiatives to create better cities."
Rahul Gandhi also attacked the BJP-led government in MP over the rampant malnutrition in the state, development and electricity.
The Congress leader also visited Datia district where a temple stampede left 139 people dead this week.