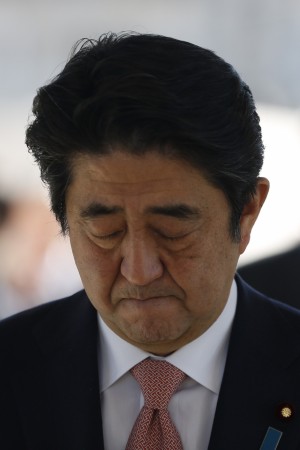 As the clock ticks for Japanese hostage Kenji Goto, who has been given only 24 hours to live by his ISIS captors, several Japanese have turned critical of Prime Minister Shinzo Abe's decision to pledge $200 million aid to nations fighting the terror group.
Japanese officials have revealed that Abe's targeting of the Islamic State during his Middle East visit earlier in the month was understood to be a risk, as Japan was aware for months that two of its citizens were being held by the group.
However, during a meeting with national security advisors ahead of his trip to Egypt, the issue of the Japanese hostages was not raised, an official said, according to The Japan Times.
Abe's pledge of $200 million to nations fighting ISIS is seen as a move to portray Japan as a 'reliable partner' to allies such as the United States, the paper reports in an article headlined 'Response to hostages reveals naivety amid push for global security role'.
Soon after Abe's speech, ISIS released a video demanding a ransom amount equivalent to Japan's pledge for the release of the two captives, and many Japanese experts believe Abe's speech led to the crisis, while officials blamed the government for being 'ill-prepared'.
"Abe's comments obviously provoked them," Masato Iizuka, an Islamic Studies professor at the Tokyo University of Foreign Studies, told The Japan Times.
"Going out of your way to call a group of people terrorists and challenging them is bound to have consequences, and I think the risks, the impact it could potentially have on Japanese nationals overseas were underestimated," he said.
Saori Ikeuchi, a Japanese Communist Party lawmaker, took to Twitter to criticise Abe's administration, claiming that it had "taken lives at home and abroad lightly", though he later deleted his tweet.
The Abe administration also received flak for being unable to build a line of communication with the terror group.
"Japan has so far done very little to establish effective and clear channels of communication on the ground," Nils Bildt, president of security consultancy CTSS Japan, told the Japanese newspaper.
"While surely someone is attempting to access these back channels now, it would seem they could have been more effectively used over the past few months," he said.
However, government officials have defended Abe, dismissing links between the prime minister's speech and the hostage crisis.
"It is not at all appropriate to link this atrocious and contemptible act of terrorism with the prime minister's visit," Yoshihide Suga, the government's chief spokesman, said at a press conference on Tuesday.
"We made a decision on the prime minister's trip after taking (into) account all factors, including ISIL (Islamic State group) activities and local security," he said.
The government also said that it had used all diplomatic channels to free the hostages.
Many Japanese, however, sided with Abe and his handling of the situation, with a survey by the Sankei newspaper on Tuesday showed that nearly 60% thought the prime minister's response was adequate, while the rest believed he had failed.
Earlier, Chinese newspaper Global Times, affiliated to state newspaper People's Daily, had faulted Abe's strategy in handling the hostage crisis, blaming Japan's allegiance to the US for the death of hostage Haurna Yukawa by the ISIS.
"The killing of the Japanese hostage is more or less the price that Japan has paid for its support to Washington," the paper.