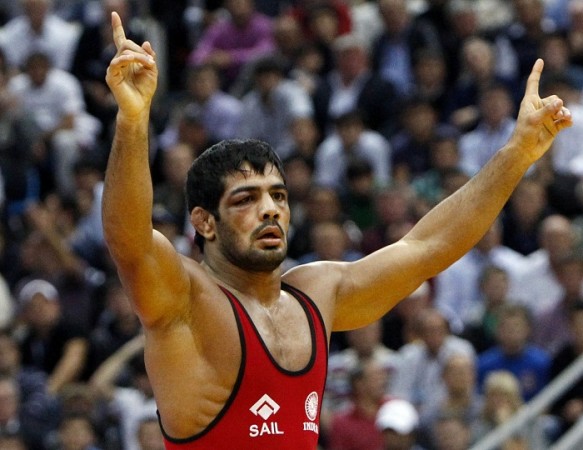 An ugly brawl ensued between the supporters of Indian star wrestler Sushil Kumar and Parveen Rana on Friday December 29, leading to a major embarrassment at the KD Jadhav Stadium in New Delhi. This was just after Sushil had qualified for the 2018 Commonwealth Games (CWG) defeating Jitender Kumar in the 74kg weight category during the qualification trials.
Sushil faced Parveen in the semi-finals of the trials where the veteran wrestler won 7-3. The match had its share of fiercely aggressive moments as bite marks were visible on Sushil's arms.
The 34-year-old complained to the referee a couple of times about Parveen, 25, getting way too aggressive. The youngster slapped him and tried to trip him down with illegal moves on numerous occasions.
Despite being at the receiving end of unwanted aggression and himself condemning the ugly brawl that ensued in the stadium, Sushil has found a First Information Report (FIR) has been filed against him. The complaint has been filed against the 2012 Olympics silver medallist by Naveen Rana, brother of Parveen.
Naveen was allegedly beaten brutally by Sushil's camp after his brother behaved so aggressively with the veteran during their wrestling match.
The FIR has been field under sections 323 [voluntarily causing hurt] and 341 [wrongful restraint] of the IPC.
"Moments after my bout with Sushil Kumar, some men came and began to beat and heckle me, saying 'how did I dare to fight against Sushil'. They also threatened to kill me if I fought Sushil in the (Pro Wrestling) League," Parveen was quoted as saying in the media.
"I have trained at the Chhatrasal Stadium for around 15 years, so I know everyone by face. I can identify the people who have beaten me and my brother. I will file a police complaint," he added.
Sushil had a classy reply to this: "Everyone has a strategy. He [Parveen] chose to be aggressive today, which is okay. It's normal in wrestling."
The veteran wrestler, who missed out on an Olympics 2016 berth, will travel with the CWG squad to Australia in April 2018.