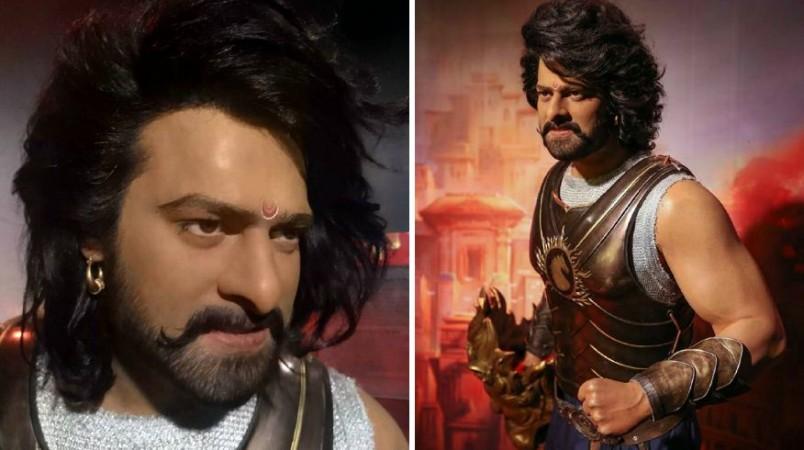 South Indian superstar, Prabhas is set to add one more feather to his cap. After getting his wax statue in Madame Tussauds in Bangkok, the Baahubali star is reportedly getting a similar statue in London.
Telugu media has reported that the Madame Tussauds in London is going to reproduce Prabhas' wax statue. It will be a rare recognition for a South Indian actor to have two statues in the world famous museums.
The avatar of Amarendra Baahubali was put up at the Madame Tussauds Wax Museum in Bangkok in 2017. He was the first South Indian actor to get his lifelike figurine.
Prabhas, who is busy with his next flick Saaho, garnered global recognition with the Baahubali series. The second part of the movie created a history by becoming the first Indian flick to breach Rs 1000-crore at the worldwide box office.
It has to be noted that Sathyaraj, who played the role of Kattappa in Baahubali series, will also be immortalized in wax at Madame Tussauds museum in London, which already houses the lifelike figurines of many popular Indian celebrities that include Amitabh Bachchan, Shah Rukh Khan, and Salman Khan.
The Madame Tussauds museums are spread across the world with over 20 branches. Last year, its first branch was inaugurated in New Delhi, India.
Expert artistes work on a celebrity statute for months before displaying them in the museum.
"The whole process starts with a sitting. A sitting is a two-hour-long session that we spend with a celebrity. We take all kinds of measurements, photographs, samples of skins tones, hair, close up pictures of the eyes, we go really close. We give all the information to UK in the studios where a brilliant team comes together and starts with the creation of the wax figure," News18.com quoted Petra, studio artist at Madame Tussauds, as saying.