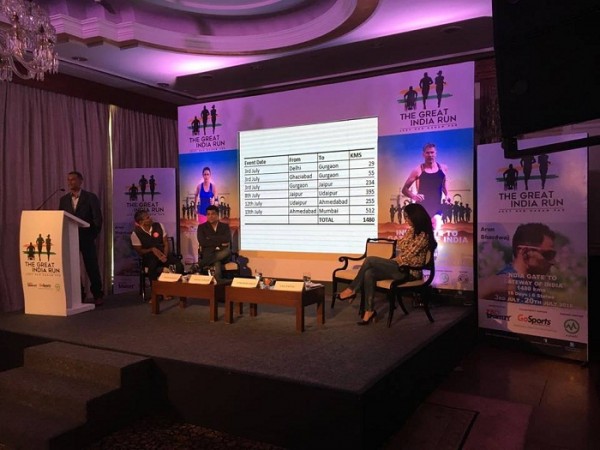 The Great India Run, the first of its kind in India, which starts July 3 in Delhi, shall witness plenty of elite runners participate in what is an ultra-city marathon. The runners will travel a distance of around 1480 kms in 18 days, traversing through six states.
ProSportify, who conceptualised the entire event, only announced the Great India Run earlier in the month and the responses they have received have been encouraging. But ProSportify director Vishal Gurnani, hopes for an even better response in the coming months.
"We are glad that the response from investors, participants and various other stakeholders is quite motivating. But as we stand almost four month ahead of the event, we look forward to greater response within these months," Gurnani told International Business Times, India.
As of now, prominent India runners like Arun Bhardwaj, Satish Gujaran, along with international runners such as Denmark's David Bredo have agreed to participate in the event. But, Utkarsh Veer Singh, COO, Mobiefit, running partner for Great India Run, has assured the presence of African runners in the marathon as well.
"We will have African runners as well. We are awaiting their confirmations for the dates, as some athletes were unavailable initially, but have now evinced interest to participate. Our focus is however to promote running in India in the right spirit," Utkarsh told IBTimes.
Long-distance running has been dominated by runners from Ethopia and Kenya, and these athletes can add great value to the Great India Run. India runners, on the other hand, have not earned a great name in long-distance running, but with such elite level events taking shape in the country, the future looks bright.
"Internationally Indian long distance runners have been at the fringes of greatness and it is a matter of time when we become medal winners also. It is this very endeavour that has led us to conceive the Great India run so that we may encourage the adoption of running and create mass awareness and participation and find future champions," Utkarsh said.
The organisers, who plan to have the 'Great India Run' annually, have a tough job on their hands to encourage people to take up running in a nation, where cricket rules the roost. They have a long way to go before they can change the sporting trend in India.
"Our ambition is to shed light on sports beyond cricket in India. The Great India Run serves as a clarion call to motivate people to take up running earnestly. This in turn, we hope, will cause a revolution to promote running, and inspire citizens helping eventually to support our countrymen at the Rio Olympics," Gurnani said.