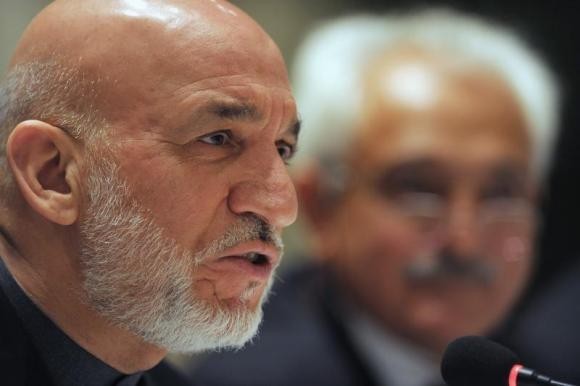 The Afghan government has ordered the release of 72 prisoners from Bagram jail, who were previously held by US forces even as Washington insists that the prisoners are "dangerous criminals" involved in killing dozens of US and Afghan troops.
Afghanistan ordered their release after saying that there was not enough evidence against 72 of 88 prisoners held by US forces at the Bagram air base, an incident that is likely to further deteriorate the US-Afghan relation that has been strained for years.
Afghanistan is miffed over a deal allowing some US troops to remain in the country even after their combat mission ends this year. The US insists on retaining US forces in the country to train Afghan troops and for counter-terrorism operations.
Calling the 72 prisoners as 'dangerous', the United States condemned the decision to let them free.
"These 72 detainees are dangerous criminals against whom there is strong evidence linking them to terror-related crimes, including the use of improvised explosive devices, the largest killer of Afghan civilians," said State department spokeswoman Jen Psaki.
The release of the prisoners was agreed upon in a high profile meeting of top judicial officials chaired by President Hamid Karzai, reports suggest.
The US says that it has evidence to prove all 88 were involved in the deaths or wounding of 60 coalition forces and 57 Afghan forces while Afghanistan says that there were solid evidence against only 16 of them.
Of the others, 45 were deemed by Kabul as completely innocent with no evidence against them. The names of the remaining 27 prisoners were in the files but there was "nothing direct and concrete" to prove that they were involved in the attacks, the president's spokesman, Aimal Faizi told Reuters.
"We cannot allow innocent Afghan citizens to be kept in detention for months and years without a trial for no reason at all," Faizi said.
"We know that unfortunately this has been happening at Bagram, but it is illegal and a violation of Afghan sovereignty and we cannot allow this anymore."
The spokesperson did not indicate when the release is scheduled to take place.
The incident comes after US senators met Afghan President Hamid Karzai in Kabul last week and warned him that any release of the prisoners from the Parwan Detention Facility at Bagram would be a "major step backwards" for the relationship between Afghanistan and the United States.
The international military force led by US in Afghanistan is due to hand over all security responsibilities to Afghan forces, before US military is fully withdrawn by the end of this year.
However if a "Security and Defense Co-operation Agreement" is signed between the two nations, about 10,000 US troops could stay there for another 10 years.